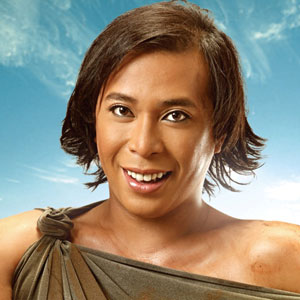 ---
The Sar Mayee tribe is considered to be the" strongest" tribe in Survivor Philippines: Celebrity Showdown. Earlier this week, the group won in the Reward challenge.
But this time, Sar Mayee lost fair and square to Nagar in the Immunity challenge. The challenge was an endurance challenge wherein each participant had to stand on a bamboo pole holding three eggs in a "prayer" position; an egg is "interlocked" in each folded arm and one egg "held" between the palms of your hand. It was the first time Sar Mayee faced the dreaded Tribal Council.

Survivor Philippines host Richard Gutierrez observed and mentioned that during the Immunity challenge, a lot of the members "surrendered" by accepting bribes in the form of food and drinks .

Before the tribe voted, he asked the tribe members several questions. Richard inquired about their reaction to the "tribe shuffle."

Aubrey Miles replied, "Siyempre, nagulat... siyempre di namin ine-expect yon. Natakot din ako kung saan ako mapupuntang tribe. Gusto ko rin mag-stay doon sa tribe ko."

On the other hand, Pretty Trizha noted that "eventually alam kong magkakaroon ng ganitong tribe shuffle. Kaya in-expect ko. Nagulat din ako kasi nga biglaan, e. Tapos, e, walang pumili sa akin as usual."

Olympian "Nanay" Elma Muros was asked the same question. "Natakot ako dahil tatlo kami tapos nagkahiwalay mga kasama ko sa Magan... nag-iisa ako....saan ako papanig?"

The host asked Elma if she has close friends in her new tribe. She admitted: "Nahihirapan po ako... mayroon din po. Pero siyempre, binabalance ko po lahat para di ako magkamali. Mahirap din po yung pabigla-bigla..."

Richard jumped on the subject of friendship. He asked Aubrey whom she considers her friends.

"Si Trizha, si Ervic, Aki ...syempre sila ang una kong naging tribe. Yung ang una kong naging close."

Does Trizha consider Aubrey a close friend?
ADVERTISEMENT - CONTINUE READING BELOW
"Yes" was Trizha's reply." First day, pa lang chikahan na kami. Although our friendship does not require daily communication...dito, dahil sa sobrang friends namin...nagkakaroon kami ng little shortcomings and we easily patch up naman..."

Is friendship more important than winning in the game?
"Yes, coz paglabas naman natin dito, e , tayo-tayo pa rin ang magkakaibigan." stated the stand-up comedian.

Would you be willing to sacrifice friendship for the sake of winning?
Aubrey: "Sa ngayon, hindi. Wala akong nararamdaman na ganoon and siguro may mga plano ako para sa sarili ko...."

Everybody then agreed that the reward challenge prize was worth it.

Even if Trizha was not around to savor the reward, he said: "...na-enjoy ko at na-enjoy nila that reward."

Richard shot back with the question "Are you going to last here in the island?"

Michelle answered with feeling, "Since Day 16 na nga...ba't parang sasayangin ko yan, di ba? Naandito na ako, ang layo na ng narating ko."

Jon Hall said matter of factly, "I joined Survivor for three million pesos. Since the first Survivor US edition, I've always wanted to join Survivor. I've always thought that I'd do pretty well. But its different kung naandito ka na. What you watch sa TV, it's pretty different."

Jon recalled his feelings during the Immunity Challenge: "When I saw the chocolate, it was really good. I think, e, dahil nainis lang ako dahil sa gutom, dahil sa pagod. That shouldn't be my attitude. Just like what I said, I'm here for the three million pesos..."

Michelle: "Nainis ako....di ako naiinggit sa chocolate pero ayoko maging ganoon ang ugali niya... gusto kong maiba ang tingin sa kanya na di siya ganoon. May ipapakita pa siyang iba.

"Mas may kailangan kaming patunayan sa kanila. Kasi kami ang magkakampi lang dito...Kami lang yung left out. Pag ginawa niya yon, alam na nga niya na threat siya...
ADVERTISEMENT - CONTINUE READING BELOW

The host asked Jon if he feels that he is a threat to everyone in the tribe.

Jon: "Personally, I feel bad for Michelle...everyone thinks I'm a threat. Like what she said, I have to keep my temper and attitude in check."

On the Immunity Challenge, the host commented that Ervic was "out" in a very short time. He wanted to find out what happened.

Ervic Vijandra described, "Giniginaw ako...lahat sila, ginawa nilang "tube" [ang panyo] E, iniisip ko, ayokong "magtube" Ang ginawa ko nilagay ko sa balikat ko...kaya nung malalaglag na, di ko mataas... wala na talaga."

Audrey: "Nafi-feel ko na kaya ko pa.... nakatulong pag nagbubuhat ka ng baby for how many hours... mas mabigat sa itlog...pero di ako nagsisisi...guilty lang ako. Instead na makuha ko ang immunity for everyone, for our team, ay parang tinanggap ko...para for myself."

Trizha: "We have our own individualities. Yan ang bongga niyang decision. I don't want to belittle to think masama ang isang tao or selfish ka."

If you were in Aubrey's position what will you do? Michelle commented, "Di sa pagiging selfish pero ang tingin nila eh, iisa kami ni Jon, tatanggapin ko talaga yon para maging safe kaming dalawa."

On the other hand, Ervic commented, "Nadisappoint ako...parang sa mata ko lang...diyan ka lang. Kasi nga may kasalanan ako nalaglag ako agad..."

Richard further inquired about Trizha's close bond with Aubrey.

Trizha simply said, "May mga dungis... kasi nga sometimes we don't trust each other. Pagpuyat...paggutom. May mga eksena na di nakakaaliw."

Aubrey affirmed, "Alam naman niya...Sar Mayee kami. Obvious siya pag nag change siya ng attitude. Nababasa ko din..."

Trizha then clarified, "Basta ako, friend ko pa rin siya. There's a line in William Shakespeare... life is like a theater. You should play your role as good as you can and perfectly..."
ADVERTISEMENT - CONTINUE READING BELOW

After the long talk, each Sar Mayee member voted. Jon had one vote while Trizha garnered four votes. As a result, Trizha was the fifth castaway to be booted out of the reality game show. Trizha waved a final good-bye to the Sar Mayee tribe.

"Siyempre malungkot...mayroon palang galit sa akin behind my back. Masaya, makikita ko ulit ang pamilya ko..." were the parting words of Trizha, the castaway dubbed as The Cheerleader.

Survivor Philippines: Celebrity Showdown airs weeknighs on GMA-7.
SHARE THIS STORY Survivor Philippines: Celebrity Showdown" data-url="https://www.pep.ph/guide/tv/6978/trizha-the-cheerleader-leaves-survivor-philippines-celebrity-showdown" data-desc="The Sar Mayee tribe faced the Tribal Council for the first time." data-image="https://contents.pep.ph/images2/guide/3beb8c8d3.jpg"> Survivor Philippines: Celebrity Showdown" data-url="https://www.pep.ph/guide/tv/6978/trizha-the-cheerleader-leaves-survivor-philippines-celebrity-showdown" data-desc="The Sar Mayee tribe faced the Tribal Council for the first time." data-image="https://contents.pep.ph/images2/guide/3beb8c8d3.jpg"> Survivor Philippines: Celebrity Showdown" data-url="https://www.pep.ph/guide/tv/6978/trizha-the-cheerleader-leaves-survivor-philippines-celebrity-showdown" data-desc="The Sar Mayee tribe faced the Tribal Council for the first time." data-image="https://contents.pep.ph/images2/guide/3beb8c8d3.jpg">
SHARE THIS STORY
Survivor Philippines: Celebrity Showdown" data-url="https://www.pep.ph/guide/tv/6978/trizha-the-cheerleader-leaves-survivor-philippines-celebrity-showdown" data-desc="The Sar Mayee tribe faced the Tribal Council for the first time." data-image="https://contents.pep.ph/images2/guide/3beb8c8d3.jpg"> Survivor Philippines: Celebrity Showdown" data-url="https://www.pep.ph/guide/tv/6978/trizha-the-cheerleader-leaves-survivor-philippines-celebrity-showdown" data-desc="The Sar Mayee tribe faced the Tribal Council for the first time." data-image="https://contents.pep.ph/images2/guide/3beb8c8d3.jpg"> Survivor Philippines: Celebrity Showdown" data-url="https://www.pep.ph/guide/tv/6978/trizha-the-cheerleader-leaves-survivor-philippines-celebrity-showdown" data-desc="The Sar Mayee tribe faced the Tribal Council for the first time." data-image="https://contents.pep.ph/images2/guide/3beb8c8d3.jpg"> Survivor Philippines: Celebrity Showdown" data-url="https://www.pep.ph/guide/tv/6978/trizha-the-cheerleader-leaves-survivor-philippines-celebrity-showdown" data-desc="The Sar Mayee tribe faced the Tribal Council for the first time." data-image="https://contents.pep.ph/images2/guide/3beb8c8d3.jpg">