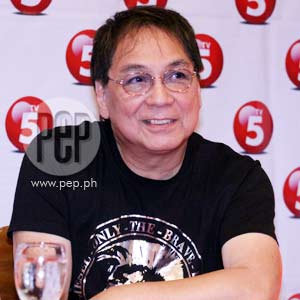 ---
TV5 has been overjoyed by its Weekend Winners or the groundbreaking weekend programs that have been raking in the most viewership ratings for the network. According to AGB-Nielsen Arianna, Mega Manila Individual Ratings the Kapatid Network has been leading in Saturday primetime. (CLICK HERE to read related article)
But real-life weekend winners emerged last Sunday, October 10, 2010, when lucky studio contestants won a house and lot on the same day that a texter at home won the P5 M cash grand prize in an unprecedented back-to-back jackpot giveaway spree on Philippine TV.
The luck associated with 10-10-10 rained down on TV5 that day because not only was the House & Lot grand prize won for the first time in House or Not, the wacky game show hosted by funnyman Joey de Leon, the P5 million cash jackpot of the Tutok Sabay Text (TST) promo was also won by a 19-year-old TV5 viewer in Camarines Sur during the live phone patch segment in P.O.5.
The Arpon family won the 3-bedroom, 2-storey house & lot in Monte Brisa Subdivision in Montalban, Rizal, worth P4 million plus the bedroom showcase worth P 42,599 in House or Not.
Nineteen-year-old Gina Mariano of Camarines Sur became an instant millionaire after choosing "letter J for Jesus" in P.O.5's live TST segment, where host Richard Gomez revealed that the box corresponding to the chosen letter contained the "x50" multiplier for the contestant's initial P100,000 cash prize.
An out-of-school youth who only stayed home, watched TV5 shows and joined TST's text promo, Mariano became the first-ever jackpot winner of Smart and TV5's nationwide text promo.
According to the Department of Trade and Industry (DTI), Mariano's P5 million prize is the highest cash prize ever won by one person in a sales promo done in a local TV game show in the country. The highest single winning was P2 million in another game show prior to Mariano's P5 M from Smart and TV5's TST promo.
ADVERTISEMENT - CONTINUE READING BELOW
Mariano will be flown in by TV5 to Manila to personally appear in P.O.5 this Sunday and claim her P5 M cash prize tax free.
The Arpon family's house & lot and bedroom showcase from House or Not will also be given to them tax free. All repair, title transfer and other requirements will be shouldered by TV5 sponsor Landworks Asia, Inc.
As of October 12, TST has given away over P17 M or exactly P17.03 M cash to daily and weekly winners nationwide who join the text promo by watching TV5 shows and answering trivia questions during commercial gaps. The TST promo runs until October 31, 2010.