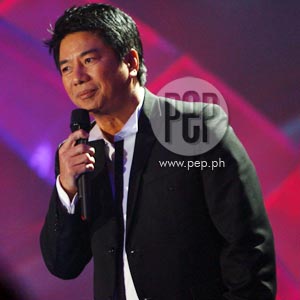 ---
Willie Revillame is all set for his TV comeback!
The former noontime show host gave possible advertisers a sneak peek of his upcoming TV5 show, Willing Willie, during its soft launch last Wednesday, October 13, at the World Trade Center in Pasay City.
This daily variety show, which will start airing on October 23 at 6:30 p.m. to 8:30 p.m., will be Willie's newest TV project five months after he stopped appearing on ABS-CBN's defunct noontime show Wowowee.
The venue was filled with people who work in the different companies either owned or co-owned by TV5 Chairman Manny V. Pangilinan. These include Smart Communications, e-PLDT, Metro Pacific Investments Corporation, Meralco, and Media Quest.
To set the mood for the event, Juicy! hosts Alex Gonzaga and DJ Mo Twister called on acoustic sensation Princess and "Asia's Golden Girl of Jazz" Olivia, who rendered song numbers. And then came the lively front act of the all-female group Eurasia. The Pinay pop dance group performed a medley of Pussycat Doll songs, "I Hate This Part," "Buttons," and "Jai Ho."
After the pre-show, Willie's assistant Owen Ercia appeared on stage to warm up the people further. He taught the audience the dance step for one of the shows game called "Family Apir." (CLICK HERE to read related article)
"LET'S PARTY!" Minutes after the short briefing, Willing Willie's female dancers appeared on stage, which signaled the start of the show. Wearing their silver glittery skimpy outfits, the girls danced non-stop for over five minutes while their group's name, WW.Girls, kept flashing on the screen behind the stage.
Moments later, the music volume was lowered and a familiar voice shouted, "Are you ready?!" The audience, including the VIPs seated in front, stood up and gave a big round of applause to Willie, who came on stage wearing a gray suit.
ADVERTISEMENT - CONTINUE READING BELOW
Moments later, Willie gestured for the music to stop. Simultaneously, fireworks lit up the stage as the lights were turned off. The short silence was cut off as Willie looked back to the viewers and shouted, "Let's party!"
He formally introduced Willing Willie to everyone by singing its theme song, with the show's logo flashing on the screen—"Tuloy ang saya, tuloy ang pag-asa."
Among the people who welcomed Willie back were clothing line owner Ben Chan and beauty surgeon Dr. Vicki Belo—the two top advertisers of Willie's former show Wowowee.
PEP also spotted socialite Tessa Prieto-Valdez; Belo Essentials managing director and daughter of the celebrity cosmetic surgeon, Cristalle Henares; designer Randy Ortiz, and Willie's composer friends Lito Camo and Vehnee Saturno.
The bigwigs of Willie's new home network were also in the event to show support, of course. The group was composed of TV5's top honcho Manny Pangilinan, President and CEO Atty. Rey Espinosa, TV5 VP and COO Robert "Bobby" Barreiro, TV5 Head of Creative and Entertainment Production Percy Intalan, Viva Entertainment Chairman and CEO Vic del Rosario, and Media Quest's President and CEO Annie Naval. Also in the group was Willie's chief legal counsel Atty. Boy Reyno.
BIGGER AND MORE PRIZES. Right after performing the show's theme song, Willie sang another novelty song titled "Tantaran Chuchuruchuru." Meanwhile, Owen Ercia picked the four best dancers from each company to represent them on "Family Apir."
And then the special props for the game was set up on stage. Lovely Abella, Monique Natada, and Aprilyn Gustillo of WW.Girls, together with Alex Gonzaga, explained the mechanics of the game.
The players had to pop 10 balloons based on the order of the numbers assigned to each member. The group that finished 10 balloons fastest would move to the jackpot round called "Wall of Fortune."
ADVERTISEMENT - CONTINUE READING BELOW
The contestants, audience and the TV executives enjoyed this segment immensely with much laughter.
The winning team, which popped 10 balloons in 26.3 seconds, received a cash prize, and Technomarine watches and WOW Magic Sing for each player.
In the jackpot round, one of the players would be blindfolded and he must pop the red balloon placed on the center of the wall. Blue and white balloons are strategically placed around this red balloon. For each blue balloon popped, the group will receive P1,000, but they will be disqualified once their blindfolded representative pops three white balloons.
Unfortunately, the winning team's rep burst three white balloons before he could reach the red balloon.
For the segment gap, Party on 5 (PO5) mainstays Wendy Valdez, Mocha, and Princess Ryan did a dance production while the group was preparing for the next game called 123 Go.
Willie and three WW.Girls randomly chose 50 people from the audience to participate in this game.
In this segment, the players stood behind 1 or 2 or 3 as they answered the trivia questions answerable by these first three numbers. The remaining contestants would receive a cash prize, a Techomarine watch, a WOW Magic Sing unit, and would move forward to the jackpot round.
The winning contestant named Joy Anne, who answered 2 when asked for the number of months a dog carries its pregnancy, couldn't believe she won the game.
She looked nervous as she tried to complete Willie's nickname "Wil" in three different wheels on "Spin-A-Wil" segment. For the "L" wheel, P3,000, P5,000, and P10,000 were placed randomly on the roulette. The "I" wheel determined how many times the result of "L" wheel would be multiplied. In the "W" wheel, everything was covered and only one part showing "W" was visible. This would later be covered, too, before the contestant spun the wheel.
ADVERTISEMENT - CONTINUE READING BELOW
Lady Luck was on Joy Anne's side! After getting P5,000 on the "L" wheel and "x5" on the "I" wheel, she got the letter "W" on the last spin, which automatically won her the jackpot prize worth P100,000.
LOOKING BACK TO WOWOWEE. The last winning contestant was already emotional as early as the elimination round. Not only did she have no expectations about winning, she didn't even think she would be part of this game show hosted by Willie. She confessed, "Papi, kasi dati pinapanood kita sa Wowowee."
Thus, Willie reminisced what he used to do on the Kapamilya network. He recalled how the Wowowee games made the people happy by giving away prizes.
"'Yong Wowowee po, hindi lang naman ako ang bida doon. Ang bida po doon, binigay namin sa mga tao. Sila 'yong nagta-talent, sila 'yong nagkukuwento ng buhay nila sa buong mundo. Ang Wowowee ginawa para sa kanila, sa mga mahihirap at sa mga nangangarap."
Willie also related how the program helped a young man named Barry Bogert Jr., who was born and raised in the Philippines, was able to meet his American father after a good Samaritan watched an episode of the show on The Filipino Channel. This story was featured on ABC News, with the title "Reunited by a Reality Show: Father and Son together again," earlier this year.
After the video clip was shown, Willie thanked his former bosses, ABS-CBN Chairman and CEO Eugenio "Gabby" Lopez III and ABS-CBN President Charo Santos-Concio, for giving him the opportunity to be part of the Kapamilya Network.
On other hand, he also took this opportunity to reiterate his plea to let him go.
It can be remembered that Willie still has a pending case concerning his contract with ABS-CBN, which will expire in September 2011.
"Ang hangad ko lang, ang hangad namin ng aking mga kasama, ay magpasaya," he said.
ADVERTISEMENT - CONTINUE READING BELOW
Willie also acknowledged TV5 executives for taking him into their network during the time when he was feeling down.
"Maraming pagsubok po. Noong mga panahong pong iyon, akala ko hindi na ako tatanggapin ng industriya at ng publiko....For five months, wala po ako sa industriya, wala po ako sa telebisyon. Akala ko, hindi na po ako makakabalik. Akala ko po tapos na ang karir ko dahil laging may pagsubok sa buhay ko." (CLICK HERE to watch video on PEParazzi)
He followed this with a touching number of "Unang Pasko," which was composed for him by Lito Camo during the period he was away from the industry. In the middle of the song, there were images of people who were part of the show's target audience.
Willie also performed a medley of love songs, including his hit song "Ikaw Na Nga," and Vehnee Saturno's compositions "Kanlungan" and "I Love You."
After almost three hours of giving fun and entertainment, Willie wrapped up the show with his timely novelty song "Boom Tarat Tarat (Pasko Na)," which made the staff, the executives, invited advertisers and audience, dance its signature steps.
He also left this message: "Mahal namin kayong lahat! Tuluy-tuloy ang saya, tuluy-tuloy ang pag-asa sa TV5!"


(CLICK HERE to view photos taken during the event)