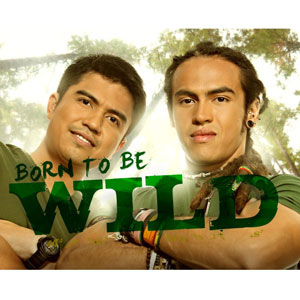 ---
The Born Expeditions II has begun. Last Wednesday, October 13, Kiko Rustia and the team headed to Malampaya Sound in Palawan to discover the mystery behind the critically endangered marine mammal known as Irrawaddy. On his first day out at sea, Kiko was welcomed by signs of the elusive animal's presence. As they surveyed the area, he noticed splashes in the water, heads "spying up" and dorsal fins on the surface.

The team's next attempt is to film the Irrawaddy in closer detail to be able to introduce them to the public. Considered critically endangered, the Irrawaddy may disappear without people knowing about it. To provide a glimpse of this animal, World Wildlife Fund's Marivic Matillano, who's been studying the Irrawaddy for the past ten years, joins the team for a photo identification activity. But weather seems to be uncooperative as rains challenge the team during the expedition. Will the team succeed in capturing images of this marine mammal? And will the Irrawaddy finally be revealed in this episode?
Meanwhile, Doc Ferds is in Virac, Catanduanes beginning his search for the 21 species of snakes documented by a local biologist. On the first night of their search, they encounter a stunning green vine snake, checking off one species from the list. Soon after, more snakes make an appearance, including an aggressive individual that bites one of the team members.
The expedition becomes tense from here on. The team discovers that other than the 21 species of snakes that they're looking for, a King also resides in the area. The King Cobra makes a surprising appearance, and changes the course of the expedition.
The second part of The Born Expeditions II will air this Wednesday, October 20, in Born to be Wild, right after Saksi, on GMA-7.