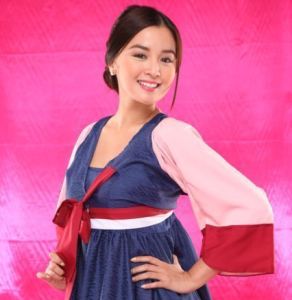 ---
Koreana has only been airing for a little more than a week but GMA-7's first original Sinenovela has been doing well in the afternoon ratings game, according to the most recent People/Individual Mega Manila Ratings Report by ratings provider AGB Nielsen.
This original drama featuring the fresh love triangle of Kris Bernal, Steven Silva and Rocco Nacino debuted at number 3 last October 11 in the over-all afternoon chart by virtue of its 5.9% rating, enough to beat its rival program's 4.8 percent.
Koreana was able to sustain the interest of the audience on the succeeding days as revealed in the following rating scores: 6 % on Tuesday (October 12), 6.4 % on Wednesday (October 13), 6 % on Thursday (October 14) and lastly, 6.1% on Friday (October 15), securing the program's first week-long victory.
Koreana takes inspiration from the hugely popular Korean craze. Kris Bernal portrays Jenna, the lead character, who sets off on a life-changing journey towards discovering her roots. Meanwhile, two StarStruck V graduates serve as her leading men. Rocco Nacino plays Benjo while Steven Silva brings life to an uptight yet goal-oriented half-Korean bachelor named Joshua.
Tension fills Koreana this week as Violeta (Eula Vandes) and Ivy (Saab Magalona) threaten to fire Jenna (Kris Bernal) from her job. However, Chang Hee (Eddie Garcia) quickly comes to her rescue by persuading Violeta to give Jenna another chance.
Meanwhile, Jenna and Joshua become closer after he finds out Jenna's Korean background. Benjo (Rocco Nacino), on the other hand, decides to distance himself from Jenna after they almost kissed.
Kris Bernal as Jenna in Koreana continues her journey this week after Trudis Liit on GMA-7.