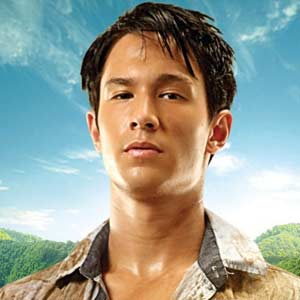 ---
After a surprise announcement of a double elimination during Nagar's Tribal Council, the five remaining Nagar castaways were once again on the verge of losing another tribe member.
Following Mico Aytona's exit aired last Friday, October 15, another member from Nagar must leave the remote island of Thailand where Survivor Philippines Celebrity Showdown was shot.
Meanwhile, the six members of rival tribe Sar Mayee were able to observe the Tribal Council that night. This time, Sar Mayee was given the opportunity to cast their individual votes against Nagar.
Ian Batherson was the first to cast his vote and went after Solenn Heusaff, citing his alliance with Ahron Villena and Moi Marcampo, and subsequently ruling out immunity holder Aira Bermudez. Moi voted against Aira, saying that "it's all part of the game" while Solenn cast her vote against Ian.
Sar Mayee's Aubrey Miles voted against Aira, saying it was the team's decision, whereas Michelle Madrigal wrote down Ahron's name instead.
Immunity holders Aira and Moi decided to use their amulets for the second time that night, thereby cancelling votes cast against them. With immunity dependent on Aira's and Moi's decisions, each of the remaining Nagar tribe members worried for their fate. After the tallying of votes, Solenn acquired a single vote, Ahron got two votes and Ian received the lion's share with four votes.
Host Richard Gutierrez then called the seventh castaway to be voted off the island. Ian told everyone: "Gaya ng lagay ng panahon, ang buhay dito sa isla, pabago-bago. Kailangan lagi kayong handa, nagmamasid at nakikiramdam."
Ian held no grudges about his being voted off. He said, "It's a privilege to be in Survivor. I'm the youngest here, mayroon maraming mas matanda sa akin. I think they need the money more than I needed it. I'm pretty well off with my family. Three million, it's a lot, pero di na ko kailangan yung mga material items. I made new friends here. To my tribe mates, ayusin mo yung challenges, play the game. Don't hate the player, hate the game. And I'll eat some food for you guys," he finished on a lighter note.
ADVERTISEMENT - CONTINUE READING BELOW
BACK TO CAMP. The Nagar tribe went back to their camp in the dead of night two members short. Ahron reflected on what happened and missed Ian's company because he was the only one "na nakakapag-pasaya, siya lang yung maingay sa camp."
Solenn, who was previously in an alliance with Mico, cited her reasons for her unforeseen betrayal in the first elimination round. "He was going to betray me so I had to play the nasty b*tch before him. I voted him off and he was the first one to go out."

With two members shy of their rival tribe, Moi, Solenn, Ahron and Aira banded together and promised to stay loyal to each other for the upcoming merger.

Said Aira, "Si Ahron, nagsalita. 'Ayan ha, kahit anong mangyari, solid tayong apat ha, walang iwanan' So, naniwala ako sa kanya, na solid tayo, sige. Siya nagsabi, 'solid, walang iwanan.' Parang solid alliance kami," she continued, "kasi puwedeng kami na yung makarating sa merge. Siyempre ang Sar Mayee anim, apat kami. Basta walang iwanan, 'yan ang usapan namin"
Solenn shared her thoughts with her tribemates, saying that once the two tribes merge, the strongest ones would most likely get booted out first. She advised them to "lower your game." She added, "Kasi in the merge, they won't care if you're helpful or whatever." She banked on Jon Hall being the first to walk off from Sar Mayee, but she didn't foresee Akihiro Sato as one of the first few casualties because he "has a lot of friends."
Solenn's gameplan was to keep the four intact and "vote the other people out."
NEW DAY, NEW CHALLENGE. The following day, the two tribes met Richard at a place far from the campsites, at a lush area called the Throne Hall.
ADVERTISEMENT - CONTINUE READING BELOW
The castaways were at a loss after hearing the announcement, as they somehow expected a merger to come out of the meeting. However, Richard said that a special challenge awaited them that day. He told them that the two tribes were to battle it out in a race against time, wit and skill. The price at stake would be a strategic advantage for the next immunity challenge as well as a surprise.
The teams have to race towards six destinations, with each pit stop housing a mini-challenge to solve and accomplish. After finishing said challenge, the teams would receive a scroll that would guide them to the next destination.

Richard gave out a few rules to remember: they should "stick together as a tribe" and they should not use public transportation or any form of transport from the locals to advance to the next round. The castaways should also be on the lookout for markers that would guide their paths.
Scrolls were handed out to tribe leaders Akihiro (Sar Mayee) and Ahron (Nagar) that gave out clues on their first stop. It instructed them to look for beautiful women with distinct patterns on their faces. Richard reminded them to look for specific colored flags to lead them to the right place. As the castaways raced to their first stop, a surprise downpour took place.
Richard explained to TV viewers that the castaways were looking for women with Tanaka cream (a certain type of cream that Burmese women use for identification and sun protection) on their faces. The male castaways must then draw patterns on the faces of their female tribemates using Tanaka cream. After which a wheelbarrow must subsequently be used to reach their next pit stop.
Both teams ended up in a bustling market in Ranong but encountered a few difficulties. Sar Mayee initially had the upper hand in the challenge, considering Akihiro's capacity to make small talk using his little knowledge of the local language.
ADVERTISEMENT - CONTINUE READING BELOW
Nagar made little progress but Sar Mayee was able to work something out. Meanwhile, Michelle from Sar Mayee got lost in the confusion and hampered her team's advancement.

"We couldn't find her," said Jon. "Even if we find the next station, what would we do? Wala tayong gagawin."
Ervic Vijandre added, "Hindi ko alam, bigla na lang kulang kami ng isa. Pagtingin namin, wala si Michelle. Ewan ko kung saan siya naiwan." He continued, "Takbo kami nang takbo, kulang kami ng isa. Natatakot kami dahil kung makita nga namin yung clue, yung susunod na pupuntahan, baka di i-accept kasi kulang kami ng isa."
Survivor Philippines Celebrity Showdown airs weeknights on GMA-7.