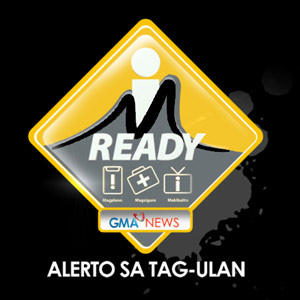 ---
Typhoon Ondoy caught many Filipinos by surprise when it hit the country last year. The calamity's aftermath was unimaginable that most were left scraping the mud off their properties after being submerged in flood waters for days.
This, among other stories of survival as well as tragic accounts of families who lost their loved ones during the typhoon, prompted GMA News to come up with I M READY: an interactive, multi-media campaign that urges the public to be on their toes when a disaster strikes.
I M READY, which is recently launched on GMA-7 through a channel plug and now carried by the channel's newscasts, presents to the viewers practical tips on how to prepare for emergency situations using three M's as guide.
MAGPLANO. A disaster strikes when it is least expected to happen. Although it may be true that one won't be prepared enough, it is still possible to prepare for whatever comes for the safety of everyone. A good example in the plug shows a family discussing their emergency plan, specifically where they would all go if ever they get separated during a calamity. It's also important for a family, particularly for kids, to understand what are considered emergency situations and what each member should do if these occur.
MAGSIGURO. Survival should also be a primary concern most especially during a calamity. That is why it's wise to secure an emergency kit as shown in I M READY. An emergency kit could consist of some basic supplies--food, bottled water, medicines, and even clothing--plus other essentials as agreed upon by the family. The kit must be kept in an area that is most accessible to everyone.
MAKIBALITA. Having the right information is as vital as ensuring the safety and survival of the family. Being up to date on the latest news and developments before and after a disaster including weather updates as well as rescue and relief operations is key to survival. It is also important to have a list of emergency numbers ready as seen in the plug.
ADVERTISEMENT - CONTINUE READING BELOW
Magplano, Magsiguro, Makibalita through GMA-7's I M READY.