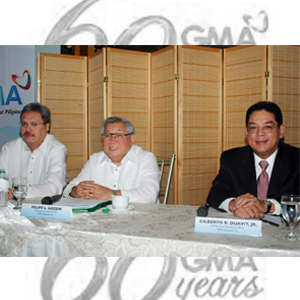 ---
GMA Network, Inc. (GMA) ended the first nine months of 2010 with net profits of P2.272 billion. According to a report furnished to PEP (Philippine Entertainment Portal) by the GMA corporate communications department, this figure is up by six percent from last year's.
The same report also said that the GMA-7 network is on "on track" in its year-end targets.
Consolidated revenues stood at P10.876 billion, eight percent higher than the P10.025 billion grossed during the same period in 2009.
According to its report, the hike in GMA-7's top line can be attributed to the "accumulation of airtime revenues from media platforms and subscription revenues from international operations, which overtook last year's performance."
Parent company Channel 7 posted a seven percent increase in revenues to P9.262 billion; Q Channel 11 registered a 10 percent improvement to P346 million. International revenues climbed 10 percent to P700 million; while Radio's revenues soared to P443 million, up 73 percent.
Meanwhile, operating expenses were up by 11 percent to P6.181 billion. The report from GMA-7 pointed out that increase was driven by the increase in production costs during the nine-month period, the non-recurring election coverage cost as well as additional in-house produced programs that replaced canned materials in the weekday late afternoon block.
GMA-7's general and administrative expenses rose by eight percent to P2.692 billion. The said increase, according to the report, is partly due to the continued promotional blitz in the regions.
Earnings before interests, taxes, depreciation, and amortization (EBITDA) reached P3.784 billion, two percent higher than the P3.713 billion recorded during the nine-month period in 2009.
Total assets grew by five percent to P13.750 billion, while total liabilities dropped by three percent to P2.786 billion. According to its executives, GMA network "remains debt-free."
During the earlier part of the third quarter, GMA-7 executives explained that the network's "top-line suffered some setback owing to the cutback in ad spending by major advertisers." The report indicated that third quarter performance resulted in revenues dropping by 10 percent to P3.311 billion and a reduction in net income by 26 percent to P583 million.
ADVERTISEMENT - CONTINUE READING BELOW
Nonetheless, the Kapuso network looks forward to a strong finish since GMA Chairman and CEO Felipe L. Gozon says that GMA-7 is "on track of reaching its 2010 bottom line targets."
"The times ahead are rosy, and even if revenues for the company went on a short-term hiatus, we are positive that we can finish the year with another banner performance—both in ratings and profits. Our advertising load is on the uptrend as big advertisers have returned and made huge commitments with the network," Gozon said.
GMA CONTINUES GROWTH ABROAD. Overseas, the Kapuso Network continues to eat up market share with its international channels, namely, GMA Pinoy TV (GPTV) and GMA Life TV (GLTV).
By the end of the third quarter, GPTV's subscribers stood at 263,000, 17 percent higher than the subscriber count recorded in the same period in 2009. Of this figure, 123,000 are also GLTV subscribers, up 13 percent year-on-year. The viewer counts are estimated at 1.7 million and 994,000 for GPTV and GLTV, respectively.
During the third quarter, GLTV was launched on PCCW in Hong Kong and on Comcast in Central California. To date, both channels have penetrated markets in the U.S., Canada, Europe, Middle East, North Africa, Australia, New Zealand, Japan, Guam, Papua New Guinea, Singapore, and Hong Kong.
Meanwhile, GMA's distribution and acquisition subsidiary GMA Worldwide, Inc., (GWI) sold $124,264 worth of programs in the third quarter of 2010. During the nine-month period, GWI already generated sales worth $306,824 (USD).
SUSTAINING SIGNAL. Locally, after having established its presence in its bailiwick, Mega Manila area, the Kapuso network is now sustaining its signal and reaching priority projects in key provinces nationwide. During the third quarter period, GMA's Engineering Group commissioned the TV relay station upgrades in Kalibo (Aklan) and Tacloban (Leyte).
The engineering group also administered the Kapuso Network's purchase of the new Media Asset Management System (MAMS)—the most sophisticated filing software employed in the local broadcast industry. The MAMS, which was bought for $4 million, would allow the network to migrate to a tapeless, file-based workflow for greater efficiency and environmental friendliness.
ADVERTISEMENT - CONTINUE READING BELOW
GMA also invested in the installation of traffic cameras across various areas, and on the news graphics system, which to date is fully operational.
TV RATINGS. In terms of TV ratings, GMA claims to be the most watched channel in viewer-rich Mega Manila during the third quarter of 2010. This is according to the data gathered by TV ratings service Nielsen TV Audience Measurement.
Mega Manila comprises 55 percent of total urban television households nationwide. It includes Metro Manila and suburbs—parts of Bulacan, Pampanga, Cavite , Laguna, and Rizal.
From July to September 2010, GMA-7 continued to lead the competition in its bailiwick Mega Manila based on Nielsen's people data. Based on this data, GMA-7 was ahead of ABS-CBN with an average total day (6AM to 12MN) people share of 37.7 percent, 6.4 percentage points higher than its rival's 31.3 percent.
Seventeen GMA programs made it to the list of overall top 30 programs in Mega Manila, with seven Kapuso primetime programs figuring strongly in the top 10 list. GMA News and Public Affairs' (N&PA) Survivor Philippines Celebrity Showdown hosted by Richard Gutierrez ranked No. 1 in the roster.
GMA N&PA programs led the list of overall top 20 news and public affairs/service programs with 11 entries during the quarter. The station's banner newscast 24 Oras, and back-to-back Saturday primetime offerings Kapuso Mo, Jessica Soho, and Imbestigador made it to the top three highest-rated programs on the list.
Also from data gathered by Nielsen TV, GMA-7 led ABS-CBN in Total Urban Luzon, which makes up 77 percent of the total TV population nationwide. In the third quarter, GMA-7 posted an average people share of 36.3 percent in the said area, 2 percentage points higher than its rival's 34.3 percent.
In October, GMA-7 pulled away from competition in Mega Manila as it widened its lead over ABS-CBN in the said area.
ADVERTISEMENT - CONTINUE READING BELOW
From October 1 to 25 (October 17 to 25 based on overnight data), GMA-7 posted an average audience share of 38.1 percent in Mega Manila, 9.5 percentage points higher than its main rival's 28.6 percent.
From August to October 25, GMA-7 said its margins over competition in audience share and people rating have been on a steady climb. In August, GMA-7 led ABS-CBN by 6.7 share points. The lead grew to 7 points in September, and further to 9.5 points in partial October.
Seventeen out of the top 30 overall TV programs in Mega Manila for the said period were from GMA-7.
The same story goes for Total Urban Luzon, where GMA Network has increased its lead with an average total day audience share of 37 percent, up by 6.4 percentage points over competition's 30.6 percent based on partial October data (Oct 1-17, Oct 10-17 based on overnight ratings). Sixteen out of the top 30 TV shows in Urban Luzon were from the Kapuso Network.
In nationwide TV ratings, the Kapuso station now trails ABS-CBN by 2.2 percentage points in audience share and by only 0.5 percent in people rating based on partial October data (October 1 to 17; October 10 to 17 based on overnight data). Fifteen out of the top 30 programs nationwide belong to GMA-7.
UPCOMING SHOWS. In its report, GMA-7 revealed the programs that are expected to fill its grid in the succeeding year.
Upcoming launches include the epic series Amaya starring Marian Rivera, Dwarfina led by Heart Evangelista, I Heart U Pare topbilled by Regine Velasquez and Dingdong Dantes, Captain Barbell starring Richard Gutierrez, and more.
GMA FILMS VENTURES. Meanwhile, GMA Films has co-produced a fantasy-action movie with Imus Productions, OctoArts Films, APT Entertainment, and M-Zet Films. This 2010 Metro Manila Film Festival (MMFF) entry is tentatively titled Si Agimat sa Mundo ni Enteng Kabisote. The film starring Ramon "Bong" Revilla, Jr. and Vic Sotto will premiere in theaters on Christmas Day, December 25.
ADVERTISEMENT - CONTINUE READING BELOW
GMA Films will also co-produce with Viva Films the Aga Muhlach-Regine Velasquez starrer Of All The Things. The movie is slated as a New Year's Day offering.