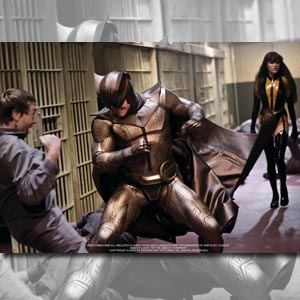 ---
Viewers can get an adrenaline rush from high-energy box office favorites with Action Nation every Sunday night at 9:00 pm on HBO / HBO HD.
An elite team of operatives known as the G.I. JOE takes on an explosive mission to fight a duplicitous arms dealer and a mysterious organization bent on plunging the world into chaos. The iconic action-figure mythology is brought to life in this action film starring Channing Tatum, Marlon Wayans, Dennis Quaid, Joseph Gordon-Levitt, Sienna Miller and Brendan Fraser. G.I. Joe: The Rise of Cobra premieres November 14, 2010.
In an alternate 1985 where superheroes are part of everyday society, a ragtag group of retired costumed crime-fighters are reunited following the death of one of its veterans. Set in a period where tensions between the United States and Soviet Union have escalated the Cold War, masked vigilante Rorschach and his colleagues set out to uncover a plot to kill and discredit all past and present superheroes.


Director Zack Snyder brings the gritty graphic novel Watchmen by Alan Moore to life with the help of stars Malin Akerman, Billy Crudup, Matthew Goode, Carla Gugino, Jackie Earle Haley, Jeffrey Dean Morgan and Patrick Wilson. Watchmen, which closes the Action Nation line up, is premiering November 21.
Don't miss Action Nation every Sunday at 9:00 pm until November 21 on HBO / HBO HD.