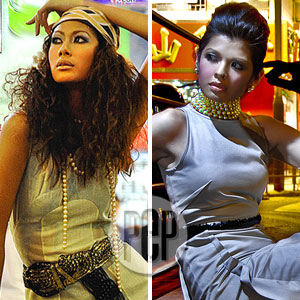 ---
In the latest episode of Philippines' Next Top Model, following Jen Olivar's elimination, Rina Lorilla and Grendel Alvarado advanced to the competition's final phase. Rina is a 23-year old junior manager trainee from Parañaque City and Grendel, 22, a student from Bacolod.
PNTM host Ruffa Gutierrez informed the two finalists, who are staying in Victoria City, Hong Kong, of their next task.
At the Starz People Modeling Agency, Rina and Grendel were introduced by Robbie Carmona to General Manager Mae-Yian Yong who challenged them to "go see" several top Hong fashion companies. As soon as Rina and Grendel got the instructions, they immediately raced from one firm to the next—first, Amandarling Boutique; and then to Hong Kong's top fashion magazine, Cover Mag; and finally, to Greg Derham's fashion company, The House of Siren.
Rina and Grendel carried out their respective tasks, presenting themselves impressively before their prospective clients. Both won the challenge and were treated to a night-out shopping at Mongkok Night Market.
The next day, Grendel and Rina were up for the day's photo-shoot, which was set along the busy alleys of Central and Wang Chai District. This high- fashion pictorial on the streets followed the concept "Street Glam in Hong Kong."
After the photo-shoot, Grendel and Rina faced the panel of judges: Xander Angeles, Robbie Carmona, Vince Uy and Ruffa Gutierrez for their performance evaluation and elimination rounds. During the evaluation, they were each given their share of commendations and criticisms for this episode's tasks and challenges. After the judges' tight deliberation,—the girls waiting in suspense—Ruffa announced the decision. A tie! Rina and Grendel were relieved that neither of them was voted out.
ADVERTISEMENT - CONTINUE READING BELOW
With that unexpected no-contest decision, the heat is back in Manila for the most anticipated ultimate showdown of the last two remaining finalists.
Fabulous prizes await the grand winner—a modeling representation with Starz Modeling Agency in Hong Kong, PhP500,000 in cash courtesy of Mane and Tail Shampoo, an editorial fashion spread in Preview magazine, PhP150,000 modeling contract with Saga Events, one year endorsement contract from Celine group of companies and L'Oreal Paris for their local campaigns, one year endorsement contract and complimentary treatments from Marie France and Facial Care Center, and a south sea pearl necklace from Jewelmer, plus the title Jewelmer's Pearl Ambassador to the World.
Don't miss the grand season finale of the first cycle of Philippines' Next Top Model, hosted by Ruffa Gutierrez this coming Tuesday (June 12) at 8:30 p.m., only on RPN-9.
Click MORE PICTURES to view photos of Grendel and Rina.