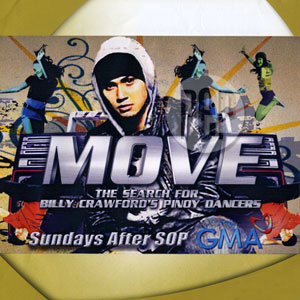 ---
Years after appearing on That's Entertainment as an adorable kid, Billy Crawford will once again grace local television by hosting his own show, Move! The Billy Crawford's Search for Pinoy Dancers!
The reality dance show is scheduled to premiere this Sunday, June 10, after SOP on GMA-7. His groovy homecoming on the Kapuso Network is part of GMA Network's 57th anniversary celebration this year. The Billy Crawford's Search for Pinoy Dancers! aims to find six of the country's best-of-the-best Pinoy dancers to back up Billy as he stages his much-anticipated first major concert in the country to be held at the Araneta Coliseum on August 4.
Viewers will get a chance to witness the daily performances of these aspiring dance idols, ages 16-26, who will be housed under one roof for five straight weeks. Cameras will capture their every move, conflict, struggle, and endeavor. The dance performers will also undergo rigid training and a series of intense workshops under the supervision of Billy's world-renowned French choreographer, Maryss from Paris. All the drama, hardships, and fun of the dance performers will be aired daily within a five-minute segment on GMA-7's morning talk show SIS.
There will be eliminations every week, which will be based on the viewers' text votes and dance gurus' scores, until six "best of the best" dance performers remain to become Billy Crawford's Pinoy Dancers. A panel of dance gurus, who will act as judges, will be sharing their views on the performance of the dance idols every week.
ADVERTISEMENT - CONTINUE READING BELOW
Aside from the much-coveted title of being one of Billy Crawford's Pinoy Dancers and a chance to perform with Billy in his concert, the six winning dance idols will receive cash prizes and a management contract with the GMA-7 Network.
MARYSS FROM PARIS. One of the judges who will lend her expertise on dance is Billy's colleague, a 25-year old French woman simply called Maryss from Paris. She describes Billy and his dance style during the May 31 press conference of Move! at the Music Museum.
"Out of all the artists I've worked with—I've seen Usher, Justin [Timberlake] dancing live—nobody, for me, dances and looks as good as Billy," says Maryss from Paris. The young choreographer has worked with many of the hottest names in the entertainment business: Gwen Stefani, Missy Elliot, Black Eyed Peas, Lil Bow Wow, Omarion, Mya, and many others.
Members of the press ask Maryss to display some of her talent onstage. After wowing the press with her crisp dance moves, Billy acts like he is being upstaged and jokingly leaves the stage to give way to Maryss. In his interviews after the press con, Billy denies that he and Maryss from Paris are a couple.
Starting June 10, Filipinos will be able to witness and decide who among the 24 aspiring dance idols will dance their way to the top and perform with Billy in his Araneta concert.
ADVERTISEMENT - CONTINUE READING BELOW
Move! The Billy Crawford's Search for Pinoy Dancers!
will start airing on June 10 after
SOP
on GMA-7.