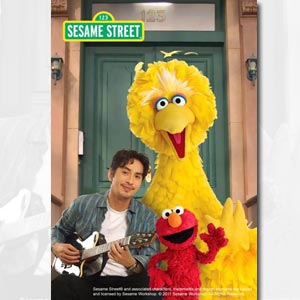 ---
PRESS STATEMENT:


"The producers behind world renowned children's television show Sesame Street and multi-awarded Filipino artist, Rico Blanco are kicking off a new education campaign called Sesame Street Kid Ako (I am a Sesame Street Kid).


"In March 2011, the partners will create a Sesame Street corner with TV and DVD set, books, and Sesame Street videos at a public school to encourage laughter and learning at an early age. Walkaround Elmo and Cookie Monster will be on hand to join in the education celebration.


"As ambassador of the Sesame Street project, Blanco will be the face and voice of the campaign in generating support from the media and sponsors and encourage all his friends and fans of his music to participate. The partners will kickstart the campaign in one school and hope to secure sponsorship to create additional Sesame Street corners in public schools throughout the Philippines.


"Rico, a wonderfully talented artist, truly connects with his fans through the power of media," said Maura Regan, Senior Vice President and General Manager, Global Consumer Products, Sesame Workshop. "His appeal and influence are undeniable and we are thrilled to be working with him to encourage a love of learning with young children in the Philippines."



"Rico was thrilled at the opportunity to be part of the campaign. "I feel blessed to be given this chance to help." The self-confessed Sesame Street Kid shares, "We'd watch the program everyday and would never miss an episode. We loved the characters, the skits, the art, the music! We would always sing (and sometimes dance!) along to the songs. In fact, along with the Beatles, I've always credited Sesame street as one of my biggest early musical influences, shaping my taste in music as a kid, and the kind of music I would later gravitate to as a grown up."


"As a part of the Sesame Street Kid Ako campaign, Blanco will also be working on rock versions of two classic Sesame Street songs, which will be performed at a mall concert series. Details to be announced."


"Viewers can catch Sesame Street programming on Ch. 38 Playhouse Disney and Ch. 47 Disney on Skycable.



"Sesame Workshop is the nonprofit educational organization that revolutionized children's television programming with the landmark Sesame Street. The Workshop produces local Sesame Street programs, seen in over 140 countries, and other acclaimed shows to help bridge the literacy gap including The Electric Company. Beyond television, the Workshop produces content for multiple media platforms on a wide range of issues including literacy, health and military deployment. Initiatives meet specific needs to help young children and families develop critical skills, acquire healthy habits and build emotional strength to prepare them for lifelong learning."



Ed's Note: When content falls under "Press Statement," this means that the material is fully and directly from the company itself. The use of open-and-close quotation marks to envelope the entire text shows as much. This also means that PEP is not the author of the statement being read. PEP is simply providing the information for readers who may be interested.


ADVERTISEMENT - CONTINUE READING BELOW