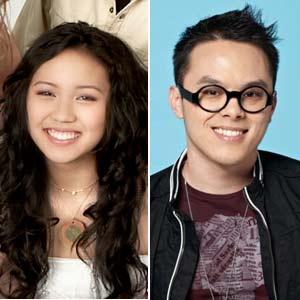 ---
PRESS STATEMENT FROM GMA NEWS TV CHANNEL 11:

"This week, live performances begin on American Idol and two red-hot Fil-Ams will be among those strutting their stuff.
"Airing locally on GMA News TV Channel 11, this season's American Idol is now down to the fabulous Top 24, among them Fil-Ams Thia Megia and Clint Jun Gamboa.
"Thia, the 15-year-old who wowed judges and audiences during the Milwaukee auditions with her standout version of Adele's "Chasing Pavements," continued her winning run throughout Hollywood week and Vegas week. Her impressive rendition of "You Raise Me Up" earned her a spot among the Top 24.
"Clint is the bespectacled 26-year-old from Long Beach, California. Among his memorable performances are his versions of " Georgia on My Mind" and Stevie Wonder's "Superstitious."
"The other Top 24 semifinalists are Casey Abrams, 20, from Illinois; Jovany Barreto, 23, from Harvey, Los Angeles; Jordan Dorsey, 21, from Laplace, L.A.; James Durbin, 22, from Santa Cruz, California; Tim Halperin, 23, from Omaha, Nebraska; Stefano Langone, 21, Kent, Wasshington; Brett Loewenstern, 17, from Forida; Jacob Lusk, 23, from Compton, California; Scotty McCreery, 17, Garner, North Carolina; Paul McDonald, 26, from Alabama;and Robbie Rosen, 17, from Merrick, New York.
"Also in the top 24 are Naima Adedapo, 26, from Wisconsin; Lauren Alaina, 16, from Georgia; Kendra Chantelle, 22, fromTennessee; Ashthon Jones, 24, from Goergia; Haley Reinhart, 20, from Illinois; Karen Rodriguez, 21, from New York; Pia Toscano, 22, from Howard Beach, New York; Lauren Turner, 24, from Covington, L.A.; Tatynisa Wilson, 20, from Shreveport, L.A.; Julie Zorrilla, 20, from Denver; and Rachel Zevita, 23, from New York.
"Catch the male hopefuls perform first on Thursday, March 3, 2 pm, and then it's the female semifinalists' turn later on the same day, 6 pm (with same day replay at 10 pm.) Season 10's first results show airs on Friday, March 4, 6 pm (with same day replay at 10 pm).
"More dynamite performances as the American Idol hopefuls soar to greater heights. Catch American Idol on GMA News TV Channel 11."
ADVERTISEMENT - CONTINUE READING BELOW
Ed's Note: When content falls under "Press Statement," this means that the material is fully and directly from the company itself. The use of open-and-close quotation marks to envelope the entire text shows as much. This also means that PEP is not the author of the statement being read. PEP is simply providing the information for readers who may be interested.