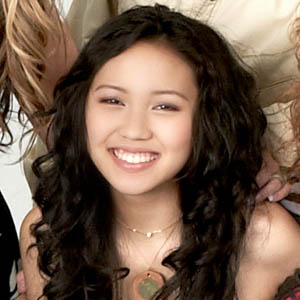 ---
PRESS STATEMENT FROM GMA-7:

"Thia Megia–the 16-year-old Fil-Am whose pitch-perfect performance during the Top 24 semifinals prompted glowing reviews and comparisons to Michael Jackson–faces tougher challenges ahead as the Top 13 sing for their IDOL lives this week.
"This week, American Idol, which airs locally on GMA News TV channel 11, will have the Top 13 perform live on Thursday, 6 pm, and then they return for results night on Friday, 6 pm.
"Thia, whose full name is Thialorei Lising Megia, is said to be the youngest Top 13 qualifier ever as American Idol lowered the age limit this year to 15. She was 15 when she wowed the judges during the Milwaukee auditions with her version of Adele's "Chasing Pavements." The Mountain House, California resident couldn't wait for the California auditions so she traveled all the way to Milwaukee to get her golden ticket.
"Then she continued her winning run throughout Hollywood Week, Vegas Week and the Top 24 sing-off. Her version of Irene Cara's "Out Here on My Own"–which began with dim lights and Thia singing a capella–was one of the highlights of the girls Top 12 performance night.
"IDOL judge Jennifer Lopez was so impressed. "It was just so beautiful," the actress and platinum-selling singer gushed. "It's such a quiet moment in the middle of all these very big performances to come out there, stand still, sing with no music in the beginning and just captivate every single person in this room was really, really special."
'Noting that Thia had perfect tone throughout the song, judge Randy Jackson said, "It's been said and it is definitely true that the mark of a great singer... is the quality of the tone of the voice... [and] your tone when we first heard you reminded me so much of the late great Michael Jackson." IDOL judge and rock icon Steven Tyler added, "Sometimes a person's pitch can be so perfect it doesn't matter what song they sing."
ADVERTISEMENT - CONTINUE READING BELOW
"During the Top 24 results night, IDOL looked back on the judges' review of her performance and Thia was moved to tears by the judges' comments. That show-stopping rendition earned Thia enough viewer votes to make it to the Top 10. Three more hopefuls were given the wildcard slot, rounding out this season's Top 13.
"Born in Hayward, California to U.S. immigrants from Pampanga, Thia began singing at a very young age. She plays musical instruments and chooses her own songs for the competition. Thia, in a previous interview, has mentioned that her idols include Kapuso star Regine Velasquez and Charice Pempengco. She is friends with Charice whom she met in 2009 when they both performed at the David Foster and Friends show in California.
"Thia will be facing tough competition from the other Top 13 finalists - Casey Abrams, 20, from Illinois; James Durbin, 22, from Santa Cruz, California; Stefano Langone, 21, from Kent, Washington; Jacob Lusk, 23, from Compton, California; Scotty McCreery, 17, from Garner, North Carolina; and Paul McDonald, 26, from Alabama.
"Also in the top 13 are Naima Adedapo, 26, from Wisconsin ; Lauren Alaina, 16, from Georgia ; Haley Reinhart, 20, from Illinois ; Ashthon Jones, 24, from Goergia; Karen Rodriguez, 21, from New York ; and Pia Toscano, 22, from Howard Beach, New York.
"Thia, Lauren, Pia, James and Scotty are among the early frontrunners. Highly regarded record producer Jimmy Iovine, chairman of Interscope Geffen A&M Records, will be coming on board to mentor the IDOL finalists. How will the Top 13 fare under his guidance? Whose winning streak will continue? Who will falter? What surprises await the Top 13?
ADVERTISEMENT - CONTINUE READING BELOW
"Catch the performance night this Thursday, March 10, 6 pm, and then find out who gets booted out on the results show this Friday, 6 pm. More dynamite performances as the American Idol hopefuls soar to greater heights. Catch American Idol on GMA News TV Channel 11."


(CLICK HERE to watch her video)
Ed's Note: When content falls under "Press Statement," this means that the material is fully and directly from the company itself. The use of open-and-close quotation marks to envelope the entire text shows as much. This also means that PEP is not the author of the statement being read. PEP is simply providing the information for readers who may be interested.