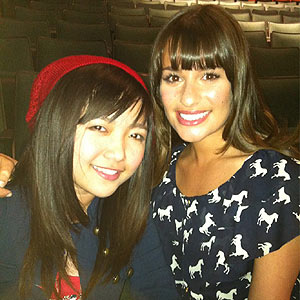 ---
On March 9, Lea Michelle rocked the Twitter world by announcing that Charice has resumed taping for the American musical series Glee.


"Look who's back!! @officialcharice!!! So happy!!!" said Lea in her Twitter account (@msleamichelle). This was accompanied by her photo with Charice who was wearing her character's trademark red beret.
In Glee, Lea portrays Rachel Berry, a student who initially made life difficult for Charice's character. When Charice first appeared on the American TV series as Sunshine Corazon, Rachel engaged the Filipino exchange student in a singing showdown for the song "Telephone."


Their version peaked at the No. 2 slot on iTunes.


(CLICK HERE to read related article)
Charice expressed her happiness by telling Lea through Twitter: "You're so sweet. <3 RT @msleamichele: Look who's back!! @officialcharice!!! So happy!!!"
The Filipina singer then shared her photo with Darren Criss, a Fil-American who plays Blaine Anderson in Glee. Charice's caption of their photo stated: "Filipino power!!!! Blaine Anderson and Sunshine Corazon!!!!"


Darren can be considered a Youtube sensation like Charice since he gained popularity for the viral video A Very Potter Musical. Darren's mother hails from Cebu while his father has Irish roots.
ADVERTISEMENT - CONTINUE READING BELOW


SUPPORTING THIA MEGIA. Aside from being proud of Darren, Charice has expressed her support for Fil-Am singer Thia Megia, one of the Top 13 finalists on American Idol Season 10.


(CLICK HERE to read related article)


Charice met Thia in 2009 when they both performed at the David Foster and Friends show in California.


Charice recently posted this message on her Twitter account: "So proud of my friend, Thia being on 'American Idol.' Goodluck to you, young lady and see you here in Hollywood! Miss u."

FOUR MORE GLEE EPISODES. In a previous interview with HollywoodLife.com during the Woman's Day Red Dress Awards, Charice revealed: "I'm on for four more episodes, which is exciting."


She hopes that she will be given the chance to show her flamboyant side in the upcoming episodes.


"People think my role is kind of a nerdy one, so I think it would be fun for Sunshine to do something to transform herself and do like Beyoncé's 'Crazy In Love.' Like a diva, and come out and be like, Wow!"
ADVERTISEMENT - CONTINUE READING BELOW
Charice also mentioned that she will soon release a new single.