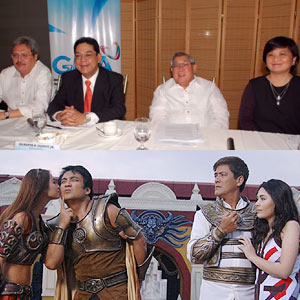 ---
PRESS STATEMENT FROM GMA-7:
"Broadcast giant GMA Network, Inc. (GMA) remained steadfast as it capped financial performance in 2010 with revenues of P14.299 billion, half a billion higher than a year ago.
Net profits likewise registered a slight improvement at P2.821 billion, inching up 2009 profit level by P2.576 million or 0.1 percent. The Company still managed to post bottomline growth amid a slew of difficulties it encountered last year.
"Consolidated airtime revenues from all platforms climbed four percent to P13.193 billion backed mostly by political advertisements during the election period, which totaled P2.054 billion as against the P636 million booked in 2009. Revenues from international and subsidiaries operations, meanwhile, grew three percent to P1.107 billion.
"Flagship business unit Channel 7 chalked in the biggest revenues worth P12.213 billion, P334.06 million or three percent over the preceding year's P11.879 billion. GMA Radio inked its success story with revenues worth P535.60 million, or a sales hike of 43 percent as against 2009.
ADVERTISEMENT - CONTINUE READING BELOW
"GMA International brought in subscription and advertising revenues worth P925.37 million, eight percent up from 2009's P855.18 million on strong sales in the US, Canada, Middle East, North Africa, Asia Pacific and Europe.
"Total operating expenses (OPEX) were up by P619.45 million or eight percent year-on-year to P8.461 billion. Production costs went up by eight percent or P338.53 million on account of the non-recurring election coverage as well as additional in-house produced programs in the weekday late afternoon grid and the weekend flagship entertainment variety program Party Pilipinas. The weekday primetime programs also had higher programming costs relative to their counterparts from a year ago.
"General and administrative expenses (GAEX) were kept at a single-digit growth of eight percent to P3.733 billion. More than one third of the hike in GAEX was due to the spike in advertising and promotions to support the blitz in the regions and to hype the Company's 60th anniversary.
ADVERTISEMENT - CONTINUE READING BELOW
"The year finished with earnings before income, taxes, depreciation, and amortization (EBITDA) worth P4.711 billion, four percent behind 2009's P4.889 billion. But the drop in non-cash expenses drove the net income to settle at P2.821 billion.
"The Company paid out cash dividends to its shareholders amounting to P1.215 billion in December. It was the second payout of dividends for 2010--the first of which amounted to P2.187 billion disbursed in May. The Company need not rely on foreign loans or external funds to run its operations--it has enough reserves and remains debt-free to-date.
"GMA Chairman and CEO Atty. Felipe L. Gozon, coming from a roller-coaster-like-ride in 2010, looks forward to a much more profitable year ahead with 58 percent of revenue targets already signed at the closing of last year.
Due to the proactive stance of its marketing arm, GMA Marketing and Productions, Incorporated (GMPI) headed by President and COO Lizelle G. Maralag, the Company already booked more than P7 billion worth of sales for 2011 as of December 2010.
ADVERTISEMENT - CONTINUE READING BELOW
"GMA proved it can withstand the tests of times. I am confident the hard days are over and we can look forward to better times ahead. The entire organization—with footprints in regional, national, and international markets—is upbeat to exceed the records made in 2010 this 2011," said Gozon.
GMA's international channels—GMA Pinoy TV (GPTV) and GMA Life TV (GLTV)—both recorded double-digit growth in subscriptions by end fourth quarter 2010. GPTV's subscribers were over 273,000 as of the mentioned period, up 16 percent year-on-year. Of this number, 125,000 are also subscribers of GLTV, increasing subscription rate by 17 percent from 2009.
"On the other hand, GMA's syndication sales and acquisition arm, GMA Worldwide, Incorporated (GWI), sold a total of US$687,629 worth of programs in 2010 to countries in Africa, Europe, and Asia.
"On television, GMA surpassed ABS-CBN in national television ratings, based on the most recent data of Nielsen TV Audience Measurement—the broadcast industry's more trusted ratings service provider.
ADVERTISEMENT - CONTINUE READING BELOW
"According to the full February data [February 27 to 28 based on overnight ratings], GMA went further by 2.2 points in household audience shares in National Urban Television Audience Measurement [NUTAM] with 34.2 points versus ABS-CBN's 32 points. GMA was also ahead of TV5 even if the latter's 14.9 is doubled.
"In Urban Luzon, which made up 77 percent of total television households nationwide, GMA ranked ahead of competition by huge margins. It finished its February programming with 37.9 household share points, 12.9 points away from ABS' 27 points; and 21.2 points higher than TV5's 16.7.
"In viewer-rich Mega Manila, which has expanded coverage to include Batangas and Laguna since January 2011 and now comprise 58 percent of total television households nationwide, GMA had 39.4 share points, or a 14.3-point margin over ABS' 25.1 points; and 22.1 points higher than TV5's 17.3.
"The Nielsen TV Audience Measurement used by GMA is used by 21 companies including two other local TV networks, namely, TV5 and Solar Entertainment; Faulkner Media; CBN Asia; 13 advertising agencies and three regional clients. On the other hand, ABS-CBN is the only local network reportedly subscribing to Kantar Media, formerly known as TNS.
ADVERTISEMENT - CONTINUE READING BELOW
"GMA Engineering Group, meanwhile, administered the renovation of Studio 5 at the GMA Network Center to suit the studio requirements of GMA News TV (GNTV). GNTV is the first and only free-to-air news and public affairs channel on VHF (Very High Frequency). Because it is on free TV, viewers do not need to pay a cable service provider to get the latest news and information.
"The Group also provides the technical backend in the Company's on-air operations. Just recently, it began the site preparations to run the media asset management system (MAMS)—by far the most sophisticated filing system in local broadcast bought at US$4 million. GMA Engineering likewise reinforces the Network's regional presence thru constant improvement of the signals of its 21 television stations in Luzon, 12 in Visayas, and 13 in Mindanao.
"In the 2010 Metro Manila Film Festival (MMFF), GMA Films with Imus Productions produced the top grosser Si Agimat at Si Enteng with box office receipts of about P175 million."
ADVERTISEMENT - CONTINUE READING BELOW

Ed's Note: When content falls under "Press Statement," this means that the material is fully and directly from the company itself. The use of open-and-close quotation marks to envelope the entire text shows as much. This also means that PEP is not the author of the statement being read. PEP is simply providing the information for readers who may be interested.