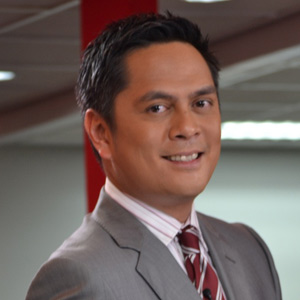 ---
Martin Andanar recently recounted his seven years working for TV5 and how he eventually became the face of Aksyon TV (TV5's news and sports channel).
He first learned about becoming the face of Aksyon TV from talks around the office.
"Since I started in this business, I never really took myself seriously. I just do my job and I love it," he told members of the press recently.
Only during the launch when he saw the station ID did he realize: "This is really something big and it's a heavy responsibility considering that we are pitted against other networks: ABS-CBN has ANC, GMA-7 has GMA News TV."
The 37-year old news anchor said: "It's unbelievable, I never really thought I would get this far, parang wow, nakakahiya naman."
Martin said he has several advantages: One, he's younger and two, he has a unique perspective of the news.
"We were raised in different ways and come from different walks of life; I guess my selling point was my education which is sort of a balanced exposure to different specializations."
He holds a masters in Entrepreneurship from the Asian Institute of Management. He finished a special course on grassroots movement in Illinois, and an intensive non-profit management course from Georgetown University in D.C. He also joined the Fellow's Program at Harvard's Kennedy School of Government.
Martin also takes pride in the fact that he is very much involved in Aksyon TV (which airs free on UHF Channel 41).


He shared, "I conceptualize everything that comes out on Radio Singko, the production, the voice-over, the same with Channel 41, I'm the visual voice-over, so doon pa lang sa inception ng channel and radio, I'm part of it."
ADVERTISEMENT - CONTINUE READING BELOW
He also handles the Y convergence sector, meaning, how TV content is translated for use to different traditional and non-traditional platforms. He's also in charge of "how the plugs should be created, the identity, and image of the station."
He names the late Peter Jennings, Tom Brokaw, and John Roberts, formerly of American Morning on CNN, and Brian Williams as his influences. Locally, he admires Noli de Castro, Mike Enriquez, and Erwin Tulfo. The latter he calls his "idol, I have high respect for the person, he's the Batman and I'm his Robin."
He also credits Al Torres, the voice over of GMA-7 as a mentor. Martin worked with DZBB for three years before joining the network then known as ABC5 in 2004.
He calls himself the "accidental voice-over" of Radio Singko and now Aksyon TV as it was through a voice-over plug he posted on Facebook that the bosses found out about his talent.


Radyo Singko 92.3 News FM is the first all-news radio station on FM.


OVERCOMING A SPEECH PROBLEM. Martin wanted to be a disc jockey when he was a Grade 4 student, listening to FM stations on the way to school every morning.


He recalled, "as a kid, I had a speech problem, I would stutter all the time."
This disability challenged him and he thought of ways to overcome it. He ended up joining elocution contests in high school, losing one in English because of stage fright and bouncing back by winning one in Filipino.
ADVERTISEMENT - CONTINUE READING BELOW
He joined 101.1 Kiss Jazz FM in his early college days at UP Los Baños. He got a stint on MRS before going back to Kiss Jazz.
He finished his university studies from the University of Ballarat, Australia when his family migrated there. He joined a community radio station and discovered Special Broadcasting Service, "a nationwide, multi-cultural base, with different languages broadcasting."
He also initiated the University of Ballarat Radio Society. He said his originally plan was to go straight to London, and work for BBC Radio.

However, he ended up coming back to the Philippines on his quest to further study Tagalog as he wanted to also learn broadcasting in Filipino.

Another of Martin's passion is social entrepreneurship. After his M.A. in Entrepreneurship "I became more of a social entrepreneur, so I said to myself, kokonti pa lang yung authority on social entrepreneurship in teaching as well, I sold my business, to concentrate on social entrepreneurship, and I wanted to teach this subject, and help people, through broadcasting, because it's a good avenue."

He recently enrolled for a Ph. D. in Public Administration at the University of the Philippines, although he is on leave this second semester due to work schedules.

He believes that, "media is also public administration, and it's good because P-Noy [President Noynoy Aquino] has this public-private partnership, a concept taken from former U.S. President Ronald Reagan's idea during his term. At least as media,we can partner in a lot of ways with government."
ADVERTISEMENT - CONTINUE READING BELOW
POWER OF SOCIAL NETWORKING. Martin noted how social networking has changed news reporting in the Philippines.


"When we did the evening news before, it was pretty straightforward. You get to talk to your listeners, but now, you don't just get to talk to them, you get their views, and then you get instant feedback.
"Unlike dati na, kailangan mo ng focus group discussion to know what you're doing is effective or not. With this social media, if you know how to do research, quantitative research, madali," he said.
"You can just go there and ask them, 'Am I doing the right thing? what should we improve?' Tapos with Facebook for instance, if you have a fan page, there's a function there where you can identify if the viewers/members or fans are male or female, married or not, their age, parang, amazing."
He said social networking helped bring down a president in Egypt and helped catapult Barack Obama to the U.S. presidency.
NEW SEGMENTS AND EMERGING TRENDS. For this dad of two kids (11 and 7 years old), he starts his day at 4 a.m. with Andar ng mga Balita (Radio Singko, then 5-8 a.m. for Sapul sa Singko (Radio Singko), before proceeding with his daily management tasks and ending his day on Aksyon TV Channel 41's Andar ng mga Balita from 6:30-7 p.m.

He said they're here to challenge the two networks and they have "so many things on the drawing board, we've gotten our act together and we're going to give them tight competition, that's for sure."
ADVERTISEMENT - CONTINUE READING BELOW

He said he sees the industry becoming more dynamic, with more competition and "more talents coming in, siyempre pagalingan 'yan so healthy competition. I think there is a chance for us to really compete in the region, internationally, not only in the news but especially in production, We can harness more of our talents, hone their skills, bring them up to international standards."

Andar ng mga Balita will feature new segments like MP3, Mula Plaka hanggang MP3 and Headlines Noon, Headlines Ngayon.
The first one presents what happened in the music industry on a certain day compared to the same date today while the second one, Martin said "iniisa-isa ko 'yong mga nangyari noon."


Another change for Akyson TV is the more active use of sound.


"I'm focused on sound because, for a lot years, television, especially news television has neglected the power of sound, so what I'm talking about is the consistency, the quality of music, the sound that you hear on TV. So I want to bring that back, let's face it, sound is one aspect that brings out your emotions."

Martin concluded that for Aksyon TV, "the beauty with us is, we can reinvent, the other two [networks] are traditional. Since they're up there, why change something that works? And since we're the ones competing, we have the luxury of thinking out of the box or even beyond the box."

Andar ng Mga Balita airs from Monday to Friday, 6:30 p.m. to 7 p.m. on Aksyon TV UHF Channel 41 in Mega Manila, Channel 29 in Metro Cebu and Metro Davao, and Channel 1 via Cignal Digital TV.
ADVERTISEMENT - CONTINUE READING BELOW