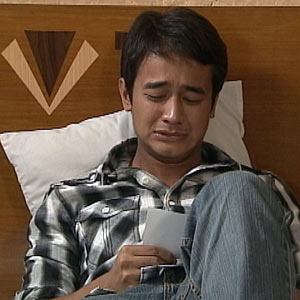 ---
JM De Guzman stars in two shows on ABS-CBN: A remake of Mula sa Puso and Maalaala Mo Kaya.
In the March 19 episode of MMK, JM is cast as an OFW who becomes a "drug mule." This is a person who acts as a drug courier by consuming pellets that contain illegal drugs. They are later retrieved by expelling them from the body.


This episode, directed by Lino Cayetano, will also feature beauty queen-turned-actress Gloria Diaz as the mother of JM's character. It will air at this Saturday at 7:15 p.m.


JM was first seen in Precious Hearts Romances presents Midnight Phantom. He has portrayed supporting roles in PHR's Alyna and Kristine.


He will reprise the role of the late Rico Yan in the remake of Mula sa Puso. JM will be paired with Lauren Young, who will reprise the role of Claudine Barretto.

(CLICK HERE to read related article)
SHARE THIS STORY Maalaala Mo Kaya" data-url="https://www.pep.ph/guide/tv/7833/jm-de-guzman-portrays-a-drug-mule-in-maalaala-mo-kaya" data-desc="His character is an OFW who becomes involved in smuggling illegal drugs." data-image="https://contents.pep.ph/images2/guide/fb5539c94.jpg"> Maalaala Mo Kaya" data-url="https://www.pep.ph/guide/tv/7833/jm-de-guzman-portrays-a-drug-mule-in-maalaala-mo-kaya" data-desc="His character is an OFW who becomes involved in smuggling illegal drugs." data-image="https://contents.pep.ph/images2/guide/fb5539c94.jpg"> Maalaala Mo Kaya" data-url="https://www.pep.ph/guide/tv/7833/jm-de-guzman-portrays-a-drug-mule-in-maalaala-mo-kaya" data-desc="His character is an OFW who becomes involved in smuggling illegal drugs." data-image="https://contents.pep.ph/images2/guide/fb5539c94.jpg">
SHARE THIS STORY
Maalaala Mo Kaya" data-url="https://www.pep.ph/guide/tv/7833/jm-de-guzman-portrays-a-drug-mule-in-maalaala-mo-kaya" data-desc="His character is an OFW who becomes involved in smuggling illegal drugs." data-image="https://contents.pep.ph/images2/guide/fb5539c94.jpg"> Maalaala Mo Kaya" data-url="https://www.pep.ph/guide/tv/7833/jm-de-guzman-portrays-a-drug-mule-in-maalaala-mo-kaya" data-desc="His character is an OFW who becomes involved in smuggling illegal drugs." data-image="https://contents.pep.ph/images2/guide/fb5539c94.jpg"> Maalaala Mo Kaya" data-url="https://www.pep.ph/guide/tv/7833/jm-de-guzman-portrays-a-drug-mule-in-maalaala-mo-kaya" data-desc="His character is an OFW who becomes involved in smuggling illegal drugs." data-image="https://contents.pep.ph/images2/guide/fb5539c94.jpg"> Maalaala Mo Kaya" data-url="https://www.pep.ph/guide/tv/7833/jm-de-guzman-portrays-a-drug-mule-in-maalaala-mo-kaya" data-desc="His character is an OFW who becomes involved in smuggling illegal drugs." data-image="https://contents.pep.ph/images2/guide/fb5539c94.jpg">