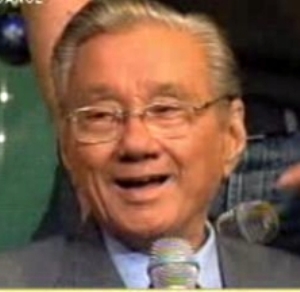 ---
PRESS STATEMENT FROM CINEMA ONE:
"Cinema One proudly offers movies showcasing the late veteran and multi-awarded actor Jose "Pinggoy" Revilla Jr. or popularly known as Armando Goyena's excellent portrayals beginning on March 21 until March 25 at 3 p.m.
"Among the movie projects of Goyena which are set to conquer Cinema One's weekday afternoon block, are Eskapo (March 21), Pag-asa (March 22), Mahal Kita Walang Iba (March 23), Sa Tokyo Kinasal (March 24) and Yamashita The Tiger's Treasure (March 25).
"Goyena passed away recently at 88 because of pulmonary embolism. Goyena made a mark in the 1995 Star Cinema film Eskapo, directed by Chito Roño. It was based on history and revolves around the daring exile launched by Sergio Osmeña III and Eugenio Lopez, Jr. from their imprisonment during Martial Law era. Hailed as a fine example of a political thriller/drama, Eskapo serves as a vivid reminder of how life was during the Marcos regime. Catch Eskapo on March 21, 3 p.m.
"The 1951 LVN film Pag-asa, directed by Lamberto Avellana, was also one of the notable films Goyena has starred in. In this classic offering, Goyena portrayed the role of Victor, a ferris wheel operator who helped orphaned children Celing (Priscilla Cellona) and Piding (Ike Jarlego Jr.) find a better home. Celing was seen to have a potential of becoming a singer so Victor's uncle (Gregorio Ticman) convinced her to join an amateur singing contest on radio. The young girl then became a success, but was still unhappy because Victor, the one she's developing love for, tends to ignore him. Pag-asa airs on March 22, 3p.m.
"Queen of All Media, Kris Aquino, Christopher de Leon and Edu Manzano's collaboration with veteran Goyena in romantic comedy Mahal Kita Walang Iba was also a big hit. Goyena played the role of Lolo Manolo. Directed by Ishmael Bernal, the film also features the late Nida Blanca. Never miss Mahal Kita Walang Iba on March 23, 3p.m.
ADVERTISEMENT - CONTINUE READING BELOW
"Another must-see movie is the 1948 action romance Sa Tokyo Ikinasal, starring no less than Armando Goyena with Rogelio dela Rosa, Celia Flor, Tessie Quinatana, Lou Salvador, Naty Bernardo and Gil de Leon. This LVN classic directed by Manuel Santos is a story about brothers Carlos (dela Rosa) and Fidel (Goyena), who are both decorated war heroes. But their closeness will be challenged as they try to win the heart of their common love, Liling (Celia). Liling is actually their adopted sister. Now that she is of age, she is free to choose between Carlos and Fidel. Sa Tokyo Ikinasal airs on March 24, 3p.m.
"Completing Cinema One's homage to Goyena is the 2011 adventure movie Yamashita The Tiger's Treasure, directed by acclaimed Chito Roño. With him are actors Danilo Barios, Mico Palanca, Albert Martinez, Carlo Munoz, Rustom Padilla and Johnny Revilla. The story is about a teenager who finds the clues to a hidden treasure in the coded wartime diaries of his grandfather. Soon, he and his friends are in hot pursuit of the Yamashita Treasure, but a dangerous mercenary is also after the prize. Catch Yamashita The Tiger's Treasure on March 25, 3p.m.

"Cinema One is available on SkyCable Gold, SkyCable Silver and other quality cable operators nationwide."
Ed's Note: When content falls under "Press Statement," this means that the material is fully and directly from the company itself. The use of open-and-close quotation marks to envelope the entire text shows as much. This also means that PEP is not the author of the statement being read. PEP is simply providing the information for readers who may be interested.