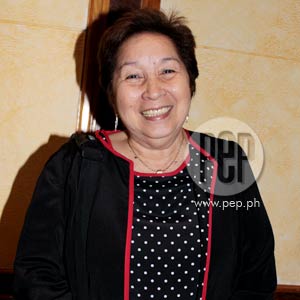 ---

PRESS STATEMENT FROM GMA-7:
"Honor, excellence and service to the country—these are the values espoused in Prof. Winnie Monsod's final lectures to her Economics students at the University of the Philippines. In it, Monsod asks state scholars to serve the country by staying in the country.
"This Wednesday, March 23, GMA News TV's Bawal ang Pasaway kay Mareng Winnie discusses the issue of brain drain in the Philippines as well as the resulting lack of doctors in the barrios.
"Monsod examines the issue with UP graduate and former Department of Health secretary Jaime Galvez Tan and 'Doctor to the Barrios' recruit, Dr. Henry Plaza. Having chosen to stay in the country, Tan and Plaza say serving fellow Filipinos meant going to the far-flung barrios and giving medical care where it was needed most.
"Meanwhile, UP College of Medicine Dean Alberto Roxas and former Pamantasan ng Lungsod ng Maynila President Adel Tamano discuss possible measures to encourage doctors to stay in the Philippines. While PLM's 'pay back' program was scrapped years ago, the UP College of Medicine is set to implement a similar scheme where students will be asked to sign a contract to render community service after graduation.
ADVERTISEMENT - CONTINUE READING BELOW
"Learn more about the issue of brain drain in Bawal Ang Pasaway kay Mareng Winning this Wednesday, March 23, 8 pm on GMA News TV Channel 11."
Ed's Note: When content falls under "Press Statement," this means that the material is fully and directly from the company itself. The use of open-and-close quotation marks to envelope the entire text shows as much. This also means that PEP is not the author of the statement being read. PEP is simply providing the information for readers who may be interested.
SHARE THIS STORY Bawal ang Pasaway kay Mareng Winnie this Wednesday" data-url="https://www.pep.ph/guide/tv/7854/brain-drain-to-be-tackled-in-bawal-ang-pasaway-kay-mareng-winnie-this-wednesday" data-desc="The show will also take a look at UP's plan to implement a "pay back" program on Medicine students." data-image="https://contents.pep.ph/images2/guide/ce9f5a56a.jpg"> Bawal ang Pasaway kay Mareng Winnie this Wednesday" data-url="https://www.pep.ph/guide/tv/7854/brain-drain-to-be-tackled-in-bawal-ang-pasaway-kay-mareng-winnie-this-wednesday" data-desc="The show will also take a look at UP's plan to implement a "pay back" program on Medicine students." data-image="https://contents.pep.ph/images2/guide/ce9f5a56a.jpg"> Bawal ang Pasaway kay Mareng Winnie this Wednesday" data-url="https://www.pep.ph/guide/tv/7854/brain-drain-to-be-tackled-in-bawal-ang-pasaway-kay-mareng-winnie-this-wednesday" data-desc="The show will also take a look at UP's plan to implement a "pay back" program on Medicine students." data-image="https://contents.pep.ph/images2/guide/ce9f5a56a.jpg">
SHARE THIS STORY
Bawal ang Pasaway kay Mareng Winnie this Wednesday" data-url="https://www.pep.ph/guide/tv/7854/brain-drain-to-be-tackled-in-bawal-ang-pasaway-kay-mareng-winnie-this-wednesday" data-desc="The show will also take a look at UP's plan to implement a "pay back" program on Medicine students." data-image="https://contents.pep.ph/images2/guide/ce9f5a56a.jpg"> Bawal ang Pasaway kay Mareng Winnie this Wednesday" data-url="https://www.pep.ph/guide/tv/7854/brain-drain-to-be-tackled-in-bawal-ang-pasaway-kay-mareng-winnie-this-wednesday" data-desc="The show will also take a look at UP's plan to implement a "pay back" program on Medicine students." data-image="https://contents.pep.ph/images2/guide/ce9f5a56a.jpg"> Bawal ang Pasaway kay Mareng Winnie this Wednesday" data-url="https://www.pep.ph/guide/tv/7854/brain-drain-to-be-tackled-in-bawal-ang-pasaway-kay-mareng-winnie-this-wednesday" data-desc="The show will also take a look at UP's plan to implement a "pay back" program on Medicine students." data-image="https://contents.pep.ph/images2/guide/ce9f5a56a.jpg"> Bawal ang Pasaway kay Mareng Winnie this Wednesday" data-url="https://www.pep.ph/guide/tv/7854/brain-drain-to-be-tackled-in-bawal-ang-pasaway-kay-mareng-winnie-this-wednesday" data-desc="The show will also take a look at UP's plan to implement a "pay back" program on Medicine students." data-image="https://contents.pep.ph/images2/guide/ce9f5a56a.jpg">