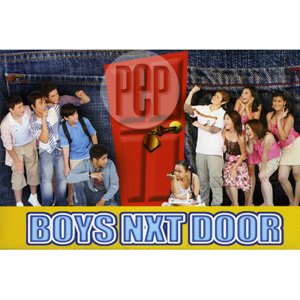 ---
For its premiere on June 24, Boys Nxt Door presents the interconnected lives of a group of youngsters who learn to embrace what fate has brought their way. This Sunday afternoon teen-oriented show is part of GMA Network's 57th anniversary celebration.
StarStruck 3 Sole Survivor Marky Cielo stars as Buboy, a charming teenager who grows up believing that he's an only child until his father reveals on his deathbed that he has a number of siblings born of different mothers. To Buboy's dismay, his mother obliges to his father's dying wish to find all his other siblings and ensure their welfare.


Buboy's mother (Rio Locsin) manages to find the brood, gathers them under one roof, pursues a job abroad, and leaves Buboy with the tremendous responsibility of looking after his siblings—the rebellious Migs (Aljur Abrenica), the mischievous joker Atom (Mart Escudero), the genius Jiro (Justine Plummer), and the pet-loving only girl Nikki (Eunice "Charming" Lagusad).


Under the rather clumsy guardianship of their uncle Badong (Benjie Paras), the siblings learn to adjust to each other's eccentricities.


They also get involved with the residents of the ladies' dormitory across their house, which is owned by the strict landlady Ms. Malinis (Janice De Belen), a spinster who is also a campus terror teacher.


Her niece, Coffee (Kris Bernal), who lives in the dormitory with her, becomes friends with Migs and Atom but soon finds herself entangled in a complicated love triangle with the clashing brothers.


Love triangles are aplenty in this exciting weekend series because Buboy eventually gets torn between dorm boarder Sari (Glaiza de Castro) and her smart, socialite bestfriend Isabel (Stef Prescott). Buboy's best friends—the handsome Decdec (Kiko Junio) and the tomboyish Milo (Jesi Corcuera)—also figure in an unusual love triangle with beauty queen bombshell Winona (Rich Asuncion).
ADVERTISEMENT - CONTINUE READING BELOW


As part of GMA Network's 57th anniversary celebration, the launch of Boys Nxt Door this June 24 starts an engaging weekend TV habit for the young and the young at heart. Boys Nxt Door airs Sundays after Move! The Billy Crawford Search for Pinoy Dancers on GMA-7.