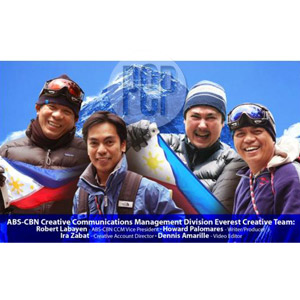 ---
ABS-CBN Broadcasting Corporation was awarded the Silver Award in the 2007 PROMAX & BDA awards, the global competition of media promotions, for its Mt. Everest TV spot entitled "Mountaintop." The recognition was given during the 2007 PROMAX/BDA International Conference in New York last June 12.
The 15-seconder plug showed the actual footage of Leo Oracion, the first Filipino to reach the world's highest peak, taking the last few steps before planting the Philippine flag on top of Mt. Everest.
The message of the spot ad went: "One step for people losing courage. One step for a people underestimating themselves. One step for a people in search of respect. May 17, 2006, on top of Mt. Everest. The Filipino planted the symbol of his unsinkable spirit."
The TV spot was created by Robert Labayen, head of the Creative Communications Management Division; Ira Zabat, creative director; Howard Palomares, writer and Dennis Amarille, editor.
The creators of the TV spot said they really wanted the global audience to "know about the Filipino's unbreakable character." They also hoped to make Filipinos appreciate the emotional significance of the expedition. In a recent survey, 83 percent of Filipinos said that they are still proud to be Filipino and cited the conquest of Mt. Everest as the main source of inspiration. The climb was supported by ABS-CBN, First Phil. Holdings Corp. of the Lopez Group, and other sponsors.
The Gold Award went to a TV network from Spain, while another Silver Award was given to a Singaporean association that that produced a TV special about cerebral palsy.
ADVERTISEMENT - CONTINUE READING BELOW
According to abs-cbnnews.com, PROMAX/BDA is the worldwide association of entertainment marketers, promoters and designers, representing more than 500 television stations and all major broadcast and cable networks from the U.S. as well as more than 3,000 individual members in 70 countries.