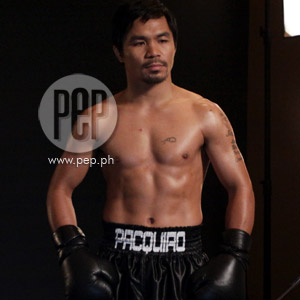 ---
PRESS STATEMENT FROM ABS-CBN:
How did a former pandesal vendor become one of the greatest boxers of all time?

"Get to know the Pambansang Kamao Manny Pacquiao up close in Dyan Castillejo's special documentary Ang Kamao: An ABS-CBN News and Current Affairs Special Report.
"Get to know the people's champ's humble beginnings and find out what he went through to get to where he is now. How different is his life now and then? Watch Dyan's full report on Saturday (May 7), 4:15 pm.

"After watching Manny's life story, watch how many Filipinos hope for better lives with the help of the Philippine Charity Sweepstakes Office or PCSO.

"Ted Failon brings you the stories of Aling Bonifacia and Mang Macario, who have cancer and tumor, respectively, and both patiently lining up at the PCSO office in hopes of getting financial aid.

"There are thousands of Pinoys who line up to try their luck in the lottery, but how many of those lining up at the PCSO office are being aided? What is the agency's criteria in choosing those who will be granted financial help?

"Find out in Failon Ngayon, 4:45 PM on ABS-CBN."
Ed's Note: When content falls under "Press Statement," this means that the material is fully and directly from the company itself. The use of open-and-close quotation marks to envelope the entire text shows as much. This also means that PEP is not the author of the statement being read. PEP is simply providing the information for readers who may be interested.