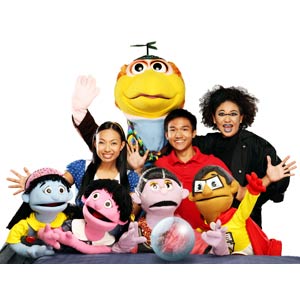 ---
Winning the undivided attention of children nowadays is a huge challenge for an educator like Feny delos Angeles-Bautista.
"Maiksi ang attention span ngayon ng mga bata," said Bautista, executive director of Philippine Children's Television Foundation and executive producer of the well-loved kids program, Batibot.
"I had to shorten the segments. Shorter than when Batibot was airing before for 18 years. That I'm not so surprise as an educator, kasi yung lifestyle talaga ngayon does not lend itself to prolonging attention span and helping children to focus.
"They have access to technology 24/7, faster pace ang lifestyle, and talagang hindi tumatagal ang focus ng mga bata," she added.
To address this particular problem, Bautista thought of bringing the entire Batibot team to schools, parks, hospitals, and other public venues, with the objective of developing live interaction with the show's target audience.
The results are instantaneous, as proven by the positive reaction of the children every time they would see Kuya Fidel (Abner Delina), Ate Maya (Kakki Teodoro), and muppets Kapitan Basa, Manang Bola, Ning Ning, Ging Ging, and Koko Kwik Kwak.
ADVERTISEMENT - CONTINUE READING BELOW
"Kapag live show you can stretch it a bit kasi direct interaction. Pag TV, what we could do, yung story-telling noon ni Kuya Bodjie runs for five to six minutes. Pero ngayon and maximum length ko is three minutes," revealed Bautista.
"In terms of content, ganito kasi, I always say parang kasal 'yan, e–something old, something new.
"Ito kasi ang basic principle of teaching: any subject matter, you can teach to a child depende sa paraan mo and gagawin mong akma sa kanya.
"Batibot tackles both the timeless issues of being healthy, growing up, and having good relationships with family.
"But at the same time we tackle issues like natural disasters. Kailangan din nating i-take up 'yan because children must be prepared, children must also learn how to be safe, and children must also learn to be alert,"
FUN-FILLED SEGMENTS. Children will have a lot to look forward to as Batibot reveals its new season after its successful comeback on TV5 last November 27, 2010.
ADVERTISEMENT - CONTINUE READING BELOW
For its second season, the show offers more fun-filled segments in addition to its signature activities, such as story-telling, live action films, and interactive games.
There will also be thematic episodes featuring "How children lived," bringing kids on a wonderful journey in time where they will learn history in ways that are relevant to them.
They will enjoy the how-to segments which present step-by-step instructions on creating and doing things. On top of having more celebrity guests, Batibot's young viewers can also look forward to seeing a new and adorable muppet they will surely love.
TV5 Executive Vice President and Chief Operating Officer Roberto "Bobby" Barreiro said in a statement: "We at TV5 felt it was high time for today's children to have a share of the Batibot experience their parents enjoyed during their youth.
"We're very happy with the show's successful comeback. For something as intrinsic to Pinoy culture as Batibot, it deserves to continue its worthwhile advocacy of teaching good values to our children in the most entertaining way."
ADVERTISEMENT - CONTINUE READING BELOW
Catch the second season of Batibot on TV5 starting this Saturday, May 7, at 8:30 a.m. Kids will have the chance watch short segments running for 3 to 5 minutes on weekdays at 9:00 a.m. and 2:55 p.m.