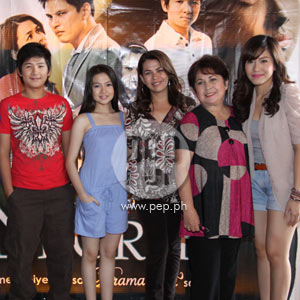 ---
PRESS STATEMENT FROM GMA-7:

"One of GMA-7's high rating teledramas in the afternoon Nita Negrita draws closer to its final two weeks with the pure hearted protagonist struggling for acceptance, peace and affection from her family.
"The last two weeks of Nita Negrita will be filled with revelations and will keep the viewers glued on their televisions as breathtaking scenes conquer their afternoons.
"The death of Baby Angelo hints the beginning of a more complicated life of Nita (Barbie Forteza). As Mira (Lotlot de Leon) struggles with her loss, she is also conflicted on how to tell Arturo (Zoren Legaspi) about their baby's death. Danica (Diana Zubiri), wanting to cause more trouble, immediately tells Arturo making him rush back home in anger. Misty (Lexi Fernandez) is blameworthy of the crime but out of her fear, she didn't tell anyone except Alex (Bubbles Paraiso) and let Nita take the blame. Nita turns out to be the suspect when all circumstantial evidence point to her.
"Tragedies seem to have a space in Nita's life. Attempting to save Nita, Mira catches the bullet from Arturo's gun that landed him in jail and leaving her almost lifeless.
"Danica takes the opportunity to prove herself again to Arturo by bailing him out of prison and persuading the investors not to pull out their business. Danica's move somehow gets back Andrea's attention.
"Nita is then brought to the DSWD facility when Andrea sees her in the hospital. Out of rage she slaps Nita and blames her for the misfortunes that befall their family.
"Meanwhile, Misty is very guilty about everything especially since she has been withholding the truth from everyone. While trying to confess and apologize, Mira's eyes opened surprisingly. Did Mira hear her remorse and confession?
"While Nita is slowly adjusting at the center, she learns that Mira is already awake but when she visited her... Mira didn't recognize her at all.
ADVERTISEMENT - CONTINUE READING BELOW
"Malevolence, hatred and revenge—these are what make Danica for not getting Arturo back. She wants Mira to pay for her unsuccessful plans. Danica wreaks havoc by showing no mercy to anyone, not even Nana Ima (Nova Villa).
"Will Danica claim any life from the cast? Will she succeed in her evil plans against Mira? Will Mira regain her memory? Can Nita and Mira be saved from the hands of Danica and start anew?
"Do not miss the exciting final two weeks of Nita Negrita weekdays after Blusang Itim only on GMA-7's Dramarama sa Hapon."


Ed's Note: When content falls under "Press Statement," this means that the material is fully and directly from the company itself. The use of open-and-close quotation marks to envelope the entire text shows as much. This also means that PEP is not the author of the statement being read. PEP is simply providing the information for readers who may be interested.