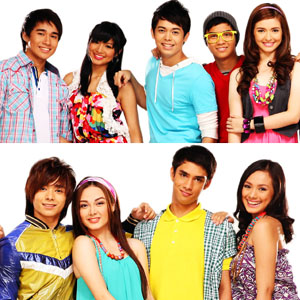 ---
PRESS STATEMENT FROM TV5:
"TV5's remake of the iconic '80s youth-oriented movie Bagets made a successful debut last Sunday as the new weekly series posted encouraging viewership ratings and generated positive online feedback. In fact, Bagets became a trending topic on popular micro-blogging site Twitter and on Yahoo! Philippines during the time it was airing.
"The official Bagets Facebook page www.facebook.com/TV5bagets, which was put up on May 13, had 119 'Likes' prior to the airing of the pilot episode but zoomed up to 1,006 'Likes' post-pilot. To date, the page is already nearing 8,000 fans with the numbers growing every hour.
"This marks the promising start of the all-new Bagets, which is bound to be a weekly habit for teens and the young at heart. Up for Bagets' second episode this Sunday (May 22) is a fusion of unrequited affections, brewing rivalry, evil schemes and unceasing declarations of young love. The teens' friendships are now tested when auditions for their school's final activity require them to choose their performance partners.
"Hiro (Aki Torio) wins the drifting challenge against Jules (Josh Padilla), thereby gaining Liezl's (Meg Imperial) favor. Meanwhile, Gayle (Shy Carlos) continues her attempt to get closer to an uninterested JC (Rico Dela Paz), who still has sights for their sexy PE teacher Ms. Jelai (Jef Gaitan). Will they end up as partners for the mash-up? On the other hand, Tara (Eula Caballero), after being beaten by Liezl in asking Santi (Johan Lourens), sets her eyes on Ace (AJ Muhlach) who spurns George's (Nadine Lustre) offer to do a duet. Jules takes this opportunity to make his advances known to George whom he aims to steal away from Ace out of spite.
"Catch the exciting story of Bagets and find out how the characters find genuine friendship brought about by issues of love and family. Bagets airs every Sunday at 4:30pm after Paparazzi on TV5."
ADVERTISEMENT - CONTINUE READING BELOW
Ed's Note: When content falls under "Press Statement," this means that the material is fully and directly from the company itself. The use of open-and-close quotation marks to envelope the entire text shows as much. This also means that PEP is not the author of the statement being read. PEP is simply providing the information for readers who may be interested.