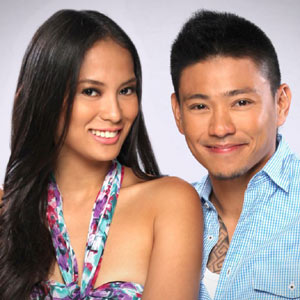 ---
PRESS STATEMENT FROM GMA-7:

"300 KILOMETRO—that's all the distance that separates Metro Manila from Sitio Latag in Occidental Mindoro. But with the stark contrast in size, population, and especially the lifestyle, the city and the sitio are practically worlds apart.

"GMA News and Public Affairs' 300 KILOMETRO is a 60-minute special that aims to bring the two places and its people closer by opening their doors to the "ultimate outsiders"—five people who will explore, enjoy, and educate themselves in a span of three nights and two days.
"First, there are the three Mangyan tribesmen namely: Bidoy, Gabin and Roman. Born, raised and still living in the tiny community in one of the mountains of Mindoro Occidental, the customs and traditions of their ancestors are still deeply ingrained in their hearts and minds. In fact, they look at Manila not as the "promised land" but as "no man's land" whose negative influence might ruin their culture and their way of life.
"Then there's Drew Arellano, the "native" from the urban jungle whose journey will take him to Sitio Latag to try and convince the locals about taking the big leap to Manila, the city they consider as "strange and sinful." And at the same time, Drew is taking a big step away from his comfort zone, to immerse and learn the simple ways of the rural folk.
"Lastly, there's Isabelle Daza, the very modern and highly-visible member of Manila 's elite who will serve as host/travel guide to the visitors from the highlands.
"They are the strangers who will come together to become guest and host, mentor and student, traveler and travel guide.
"They are the members of the so-called modern and primitive societies who will show viewers what's to come and what may be lost.
ADVERTISEMENT - CONTINUE READING BELOW
"They are the "natives" who will take viewers 300 kilometers and beyond to see the Philippines through a new set of eyes, with open minds and the purest of hearts.
"300 KILOMETRO: Isang Paglalakbay is an SNBO presentation airing on May 29, 10:15 pm, on GMA-7."
Ed's Note: When content falls under "Press Statement," this means that the material is fully and directly from the company itself. The use of open-and-close quotation marks to envelope the entire text shows as much. This also means that PEP is not the author of the statement being read. PEP is simply providing the information for readers who may be interested.