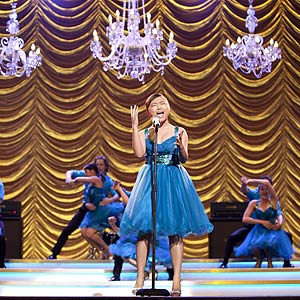 ---
As of tonight, May 25, Sunshine Corazon was at the No. 1 slot of trending topics in the micro-blogging site Twitter (for the Philippines).


This resulted from Charice's appearance in the season finale of Glee Season 2 that aired earlier tonight.


The hashtag #gleefinals landed in the fourth spot of the local trending list while Nationals was in ninth place.
In this episode, Charice's character named Sunshine Corazon had a chance to talk with Rachel Berry (portrayed by Lea Michelle) inside a comfort room.


In the pilot episode of Glee, Rachel played a trick on Sunshine by giving her the address of a crack house (drug den) instead of their audition venue. For this reason, Sunshine decided to join Vocal Adrenaline, the biggest rival of New Directions.


In the finale episode, Rachel apologized to Sunshine for her past behavior. She admitted, "You're good. That's why I sent you to that crack house." She also encouraged her rival contestant by saying, "You have a gift." They ended their talk by hugging each other.


Sunshine then performed the Glee original song "As Long As You're There" while members of Vocal Adrenaline danced behind her. After her performance, she was given a standing ovation.


Hollywood entertainment site ew.com had this to say about Charice's performance in the finale of Glee Season 2: "Sunshine Corazon was brighter than her sparkly microphone on this power ballad. The character might be a snore, but there's nothing snoozy about this girl's voice. A+"


A few days ago, it was reported that Charice was nominated in two categories of the 1st Annual Glee Music Awards.


The Filipina singer is competing against Gwyneth Paltrow, Carol Burnett and John Stamos for the Best Guest Performance category. Charice is also nominated in the Best Duet category for her performance of "Telephone" with Lea Michele. The results will be released on May 31.


(CLICK HERE to read related article)
ADVERTISEMENT - CONTINUE READING BELOW
COLLABORATION WITH SARAH GERONIMO? In an interview with ABS-CBN News, Sarah Geronimo revealed the possibility that she may work on a single with Charice.


Sarah was quoted as saying: "Nasa planning stage pa lang siya and I'm hoping na matuloy kasi international pop sensation si Charice.


"It would be an honor to do a collaboration with her. Parang single yung gagawin, dito gagawin sa Pilipinas pero kung saan ire-release, 'yan po ang inaayos. Depende sa both sides kung saan mag-agree."