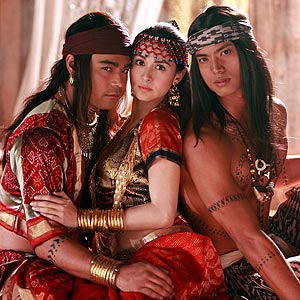 ---
Much has been said and written about GMA-7's new primetime series Amaya, which will make its television debut tonight, May 30.
The Kapuso Network even went all out to coin a new genre dubbed as "epicserye" to differentiate the project from the usual (and formulaic) telefantasyas and drama soaps the viewers are already accustomed to.
A 2004 documentary featuring a forgotten tribe found in Panay-Bukidnon inspired the concept of Amaya--giving credence to the network's claim that the project has a historical basis for its storyline.
Based on the first few episodes of Amaya, as shown last May 27 at Cinema 2 of SM City North EDSA, the team behind the program spent much effort to make the props and setting reflect the lifestyle practiced by our ancestors before Spanish rule.
Viewers are given the chance to witness the giant ship called Karakoa right on the first episode.
Even onscreen, the ship--complete with more than a dozen rowers manning the ancient vessel--looks stunning!
Indeed, seeing the P1 million warship at the start leaves a lingering impression on the audience as far as the program's willingness to go all out to make every detail as accurate as possible.
Equally striking are the costumes and outfits worn by the actors, which represent their respective status in the pre-colonial society.
Ancient terms such as babaylan (shamans or priestess), baroto (boat or canoe), binukot (young women kept inside the house), iloy (mother), hayohay (slave), karakoa (warship), and uripon (slave), among many others, abound in the series.
ADVERTISEMENT - CONTINUE READING BELOW
It certainly would be helpful to guide the viewers on the equivalent meaning of the words for them to fully grasp the flow of the story in connection to the background of both the major and minor characters.
Fans of Marian Rivera will need wait a little before catching a glimpse of their idol as initial episodes will focus on establishing first the plot's foundation as shaped by Rajah Mangubat (Gardo Versoza), Dian Lamitan (Gina Alajar), Dal 'Lang (Lani Mercado), and Datu Bugna (Raymond Bagatsing).
Gardo's effective portrayal of the brutal ruler Rajah Mangubat will surely lure viewers to root for the coming of Amaya, who, according to prophecy, will put an end to the feared leader's notoriety.
Gina Alajar also proves that she's capable of portraying diverse characters with ease.
The award-winning actress's take on Dian Lamitan will surely make her hated by viewers. Dian Lamitan, after all, would become Amaya's chief nemesis even before she grows into her role as a warrior.
Lani Mercado, on the other hand, will gain the sympathy of the public as the mother of Amaya, who fell in love with a datu perceived as untouchable for ordinary folks, much more a slave.
One glaring element present in the story is the social divide among the privileged and those belonging in society's lower spectrum--a reality that still very much exists anywhere around the globe even today.
In a particular scene, Dian Lamitan (Gina Alajar) ordered Agang (Ana Capri) to physically hurt her good friend and fellow slave Dal 'Lang (Lani Mercado), who happens to be pregnant with Amaya.
ADVERTISEMENT - CONTINUE READING BELOW
Dian Lamitan's wrath was due to the fact that Dal 'Lang is maintaining a relationship with her husband, Datu Bugna (Raymond Bagatsing).
Despite being a period TV series, viewers could still see the parallelism between life during pre-colonial times and the present.
Changes in government and its system did nothing to eradicate social injustice and the clear gap prevailing between the rich and poor.
Nonetheless, much have changed regarding women's role in society. Women, over the years, have shown that they are equally capable of assuming important roles both in the government and corporate field.
In Amaya, however, women are still under the control of their male counterparts. Thus, when informed by the priestesses that the chosen liberator is a woman, Rajah Mangubat felt offended and vowed to slay his future opponent upon birth.
Of course, the oppressor against the oppressed angle has always been an exploited theme in Philippine movies and television; but seeing it presented in a manner different from the usual fare is a welcome sight for us viewers.
And this is where critics are keeping their collective fingers crossed: that Amaya, hopefully, will stick to its storyline of epic proportions.
Frankly, we can forgive the telefantasya angle that Amaya is born with a snake twin. Although we are also wondering if there are other "realistic" ways to highlight the protagonist's destiny as someone who will put an end to Rajah Mangubat's reign.
Adding magical and fantasy elements, other than the snake twin slant, will be inappropriate, and will only wreck the program's original vision as crafted by its writers.
ADVERTISEMENT - CONTINUE READING BELOW
It is still too early to pass judgment after seeing a program's first few episodes. Even National Artist for Literature Bienvenido Lumbera, who was present during the screening, admitted that it would be immature to comment on the positive and negative merits of Amaya at this stage.
But so far, so good, and credit should go to GMA-7 for taking a bold step to navigate TV viewing to new possible horizons.