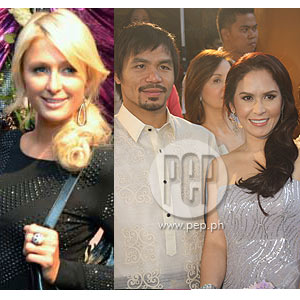 ---
Paris Hilton talked candidly about her friendship with Manny and Jinkee Pacquiao during her guesting on the American late-night talk show, Jimmy Kimmel Live!
When Jimmy asked her if she is indeed friends with the seven-time world boxing champion, Paris said with a smile, "I am. He was just texting me yesterday."


She then narrated how they met: "I was at his big fight in Vegas and his wife wanted to meet me so they brought me onstage at the press conference after and then we became friends."


Last May 8, Paris watched Manny's bout with "Sugar" Shane Mosley in Las Vegas. Afterwards, she met with Manny and Jinkee in the post-event presscon wherein she agreed to have her photo taken with the couple.


(CLICK HERE to read related article)


Paris looks forward to seeing the couple again when she comes to the Philippines. She revealed, "I'll be going to the Philippines soon. I opened a couple of stores there for my handbag line."


Last May, the socialite opened her Paris Hilton Handbags and Accessories shop at the Abreeza Mall in Davao City.


Jimmy was amazed by the friendship between the socialite and the boxer and even described it as an "odd pairing."


The American TV host then suggested that Paris should sing with Manny on his show. Paris smiled and said she could do that.


If they do sing a duet together, does she think Jinkee will get upset? Paris replied, "No, she's sweet. I love Jinkee. She's so sweet."