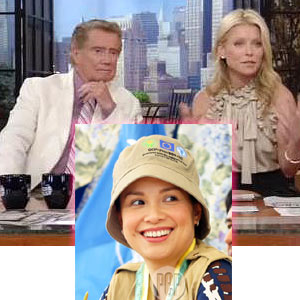 ---
On his morning show Live with Regis and Kelly, Regis Philbin recalled Lea Salonga's performance on a West End show that left an unforgettable impression on him.


"We went to a show called Miss Saigon," Regis told his co-host Kelly Ripa. "The young lady who starred in it...Lea Salonga, terrific girl from the Philippines. She's got a great voice. Beautiful girl. She's got it all.


"After the show, my girs were terribly moved by the story so we got outside and JJ said, 'Wow, that's the best show I ever saw!'


The TV host quipped, "That was the first show she ever saw but I knew what she meant. We never forgot that."


Regis then revealed that Lea will be appearing at the Cafe Carlyle. The Filipina singer is slated to perform in New York until June 25.


Kelly was visibly excited by his announcement and she remarked, "She is remarkable!"


Regis emphasized, "She has a beautiful voice and she's very attractive. It's amazing how these Broadway people don't change...their figure, their voice...Lea Salonga at the Cafe Carlyle."


Kelly added, "You should see her. I remember seeing Miss Saigon on Broadway and I remember being spellbound by her. That was a great musical."
ADVERTISEMENT - CONTINUE READING BELOW