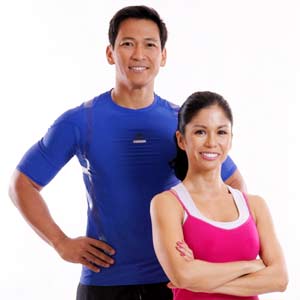 ---
PRESS STATEMENT FROM ABS-CBN:
"The 14 official contestants of The Biggest Loser Pinoy Edition aren't the only ones pitted against each other in the Philippines' 'biggest' reality TV show. So are the two trainers tasked to help them lose weight—Jim Saret of Blue Team and Chinggay Andrada of Red Team.
"Just like the 14 'bigating Pinoy', Jim and Chinggay underwent auditions, and out of all those invited to try out for the job, the two emerged as unanimous choices for the people behind the program.
"Production manager Reily Santiago explained that the twosome aren't only accomplished in the field of fitness, they also have different, interesting personalities that the public will love to watch.
"Jim, who's a U.S. certified sports scientist and the head trainer of the whole Philippine national team, appears to be more approachable with a ready smile for everyone. But when it's time for training, Jim wears his game face as he implements a training that uses both science and creativity.
"On the other hand, Chinggay, a known kickboxer, trainer to mixed martial artists in America, and also a former TV and radio personality in the Philippines, comes as serious and no-nonsense but has a heart that feels for the contestants.
"Before leaving for the U.S. to study Sports Science and returning to the country as 'trainer of trainers', Jim was a national team player for tennis. Since his youth, he has been into sports, which makes it easier for him to develop and conduct trainings for elite athletes including hardcourt heartthrob Chris Tiu.
"But in the BL camp, he faces a different challenge as he has to handle people who are not use to an active lifestyle and are also overweight, if not obese. But with his experience and knowledge as a sports scientist, Jim knows he can help them as well as he is able to help sportsmen.
ADVERTISEMENT - CONTINUE READING BELOW
"My philosophy is there's an athlete inside all of us. You just have to know the right motivation to let it out. And that's what I will do to my team in the camp."
"In the past two weeks, viewers got to see Jim's unique method in training, wherein he adjusts the workout to the person doing it. He veers from traditional ways of exercise to make training as fun as it is effective for his group, composed of Alan, Eric, JM, Larry, Angela, Edden, and Joy, the heaviest among the females.
"Meanwhile, Chinggay was exposed early to different sports by her father, even if she's the only girl among her siblings. She carried this passion as she grew up and eventually made a name as kickboxer, sportscaster, host and producer of TV and radio programs on sports. Before she founded her own gym, she also won in fitness competitions.
"To join Biggest Loser, Chinggay came back to the country from America, where she lived with her daughter and husband. She said she got the biggest break of her career in the show, but not because of it being a huge production in a major network. It's because she'll be able to help transform people's lives.
"This explains why she got emotional when inviting Art, Raffy, Ryan, Destiny, Hazel, Winwin, and the program's heaviest contestant, Eboy, to be part of the Red Team.
"But, when it's time for training, Chinggay is tiger-like in pushing and motivating her members to outdo themselves whether it is push-ups, squats, or weight-training they're doing. She said, 'With my training style, you have to get my respect. You have to show me you're really serious and determined.'
"With the first weigh-in and elimination approaching, people are already betting on either Jim or Chinggay to lead their team to a win. Blue Team already has a psychological advantage, having won the challenge with game master Derek Ramsay, but they can't be complacent for the real contest is on the weighing scale.
ADVERTISEMENT - CONTINUE READING BELOW
"The team with the highest percentage of weight loss will be safe from elimination, while the losing team will have to choose one member of their team to vote off.
"Are you for Blue Team or Red Team? Watch out for the thrilling and heartbreaking first weigh-in and elimination of The Biggest Loser Pinoy Edition with the Megastar Sharon Cuneta on ABS-CBN's Primetime Bida, after Minsan Lang Kita Iibigin."
Ed's Note: When content falls under "Press Statement," this means that the material is fully and directly from the company itself. The use of open-and-close quotation marks to envelope the entire text shows as much. This also means that PEP is not the author of the statement being read. PEP is simply providing the information for readers who may be interested.