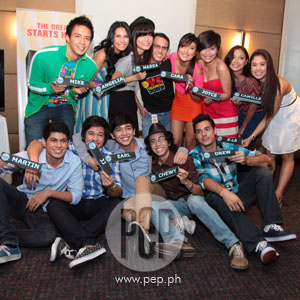 ---
PRESS STATEMENT FROM ABS-CBN:
"Now on its fifth year of searching countrywide for deserving music video ambassadors which have produced well-loved hosts like sophomore VJs Chino Lui Pio, Bianca Roque and Janine Ramirez, and freshman Robin Nievera, MYX—the number one music channel—is at it again!
"Senior VJs Luis Manzano, Nikki Gil, and Iya Villania are now well-recognized as hosts and are busy hosting more than one show on MYX and ABS-CBN.

"Voting for this year's MYX VJ Search is now officially on! Twelve finalists from all over the country battle it out to get the people's votes and the MYX Team's approval to eventually become MYX's next most-sought after VJ.

"Who among beauty queen Angelia, aspiring actress Camille, sexy charmer Cara, humorous Chewy, Fil-Am stunner Drew, theater geek Earl, funny guy JJ, quirky Joyce, RnB Sweetheart K-La, club DJ Marga, boy next door Martin and swimming hottie Mike will make it to the top and be hailed as MYX next ambassador?
ADVERTISEMENT - CONTINUE READING BELOW

Angelia
This fierce Ilongga is out to prove that she can do more than just the beauty queen wave. Voted as this year's Face of Bb. Pilipinas, Angelia, who hosts a travel show in her province, displays her wacky and fun side as she tries to become the next MYX VJ.
Camille
Camille already appeared in commercials, TV dramas, web shows and even in an indie film. You'll never be out of love for this avid Air Supply fan, who's all out to pursue her MYX VJ ambition.
Cara
Cara has appeared on a number of music videos. But now, she's set to follow her dream of introducing music videos herself: as a MYX VJ. Keep an eye out for this sexy charmer as she spices up this year's search.
Chewy
Chewy may be the smallest in the bunch, but that doesn't stop him from striking the right attitude. Currently balancing being a music production student and a radio jock, this McLovin' look-alike is set to make this year's MYX VJ Search "superbad."
ADVERTISEMENT - CONTINUE READING BELOW
Drew
This Filipino-American stunner was once missing in a mobile phone ad but is now finding his way to stardom. Could this English teacher/basketball player charm his way to being the next MYX VJ?
Earl
Not only is Earl a theater geek, he also admits to being a K-Pop fan. This honor student is prepped to flash a smile as he works his way to the hearts of MYX viewers.

JJ
Funny guy JJ is a former student radio DJ who's ready to take on the MYX VJ post. This college sophomore from Ateneo will definitely add some excitement to this year's search.
Joyce
Joyce shows off her spunk and quirky character in this year's MYX VJ Search. The UP Fine Arts student says she's fluent in sarcasm and gibberish. Will she be able to connect with the viewers?
K-La
K-La has competed on national TV to become the next singing sensation, but the Filipino-Canadian RnB sweetheart is equally determined to show everyone that there's more to her than just a pretty face. Let's see if her angelic voice can help her rise above the competition on MYX.
ADVERTISEMENT - CONTINUE READING BELOW
Marga
Marga is a club DJ who's all set to dish out more tunes as a MYX VJ this time. The Advertising major—who enjoys football and longboarding—is ready to pump up the energy with her funky groove.
Martin
With his boy-next-door image, this Broadcast Communication student is geared up to become the next MYX VJ. A self-confessed Katy Pery fan, Martin is out to come after his teenage dream.


Mike
The 6'1" hottie Mike stands proud as the captain of the De La Salle University swim team. This sports buff dives into the world of television hosting as he tries to become the next MYX VJ.
"Catch the finals of the MYX VJ Search 2011 on July 27 at The Block, SM City North Edsa.

"Always tune-in to MYX (SkyCable Channel 23) for the hottest news on this year's MYX VJ Search."
Ed's Note: When content falls under "Press Statement," this means that the material is fully and directly from the company itself. The use of open-and-close quotation marks to envelope the entire text shows as much. This also means that PEP is not the author of the statement being read. PEP is simply providing the information for readers who may be interested.
ADVERTISEMENT - CONTINUE READING BELOW