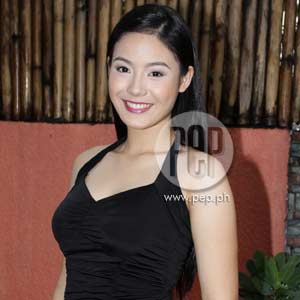 ---
PRESS STATEMENT FROM TV5:
"Mga Nagbabagang Bulaklak, TV5's most intense and controversial dramaserye, is bound to make a memorable and scorching conclusion as its finale flames up with the rage of vengeance interspersed with the intense love and passion of its exceptional characters.
"This Friday, June 17, TV5 airs the much-awaited final episode that will seal the fate of sisters Dahlia (Arci Muñoz) and Daisy (Ritz Azul), who once dreamed of the glitter and glamour of show business but had to live through various risks and threats to their lives to reach their dreams.
"How much longer can they evade the unquenchable wrath of Ivy (Carla Humphries)? Who among their loved ones will have to sacrifice their lives to save them? Will it be their mother Rosal (Sheryl Cruz), their aunt Ms. O (Ruffa Gutierrez), Mr. A (Richard Gomez), Marco (Victor Basa), Eros (James Blanco), or Mr. Z (Phillip Salvador)?
"The final episode of Mga Nagbabagang Bulaklak is sure to keep viewers on the edge of their seats as each scene flares up with explosive revelations and surprising twists up until the very last moment.
"Mga Nagbabagang Bulaklak airs weeknights after Babaeng Hampaslupa on TV5. Directed by Jon Red, the primetime series is produced for TV5 by Prime Events Force Unlimited Inc."
Ed's Note: When content falls under "Press Statement," this means that the material is fully and directly from the company itself. The use of open-and-close quotation marks to envelope the entire text shows as much. This also means that PEP is not the author of the statement being read. PEP is simply providing the information for readers who may be interested.
SHARE THIS STORY Mga Nagbabagang Bulaklak this Friday" data-url="https://www.pep.ph/guide/tv/8337/tv5-promises-scorching-finale-for-mga-nagbabagang-bulaklak-this-friday" data-desc="Who among Dahlia and Daisy's relatives will have to sacrifice their lives to save them from Ivy?" data-image="https://contents.pep.ph/images2/guide/7b73d8f0f.jpg"> Mga Nagbabagang Bulaklak this Friday" data-url="https://www.pep.ph/guide/tv/8337/tv5-promises-scorching-finale-for-mga-nagbabagang-bulaklak-this-friday" data-desc="Who among Dahlia and Daisy's relatives will have to sacrifice their lives to save them from Ivy?" data-image="https://contents.pep.ph/images2/guide/7b73d8f0f.jpg"> Mga Nagbabagang Bulaklak this Friday" data-url="https://www.pep.ph/guide/tv/8337/tv5-promises-scorching-finale-for-mga-nagbabagang-bulaklak-this-friday" data-desc="Who among Dahlia and Daisy's relatives will have to sacrifice their lives to save them from Ivy?" data-image="https://contents.pep.ph/images2/guide/7b73d8f0f.jpg">
SHARE THIS STORY
Mga Nagbabagang Bulaklak this Friday" data-url="https://www.pep.ph/guide/tv/8337/tv5-promises-scorching-finale-for-mga-nagbabagang-bulaklak-this-friday" data-desc="Who among Dahlia and Daisy's relatives will have to sacrifice their lives to save them from Ivy?" data-image="https://contents.pep.ph/images2/guide/7b73d8f0f.jpg"> Mga Nagbabagang Bulaklak this Friday" data-url="https://www.pep.ph/guide/tv/8337/tv5-promises-scorching-finale-for-mga-nagbabagang-bulaklak-this-friday" data-desc="Who among Dahlia and Daisy's relatives will have to sacrifice their lives to save them from Ivy?" data-image="https://contents.pep.ph/images2/guide/7b73d8f0f.jpg"> Mga Nagbabagang Bulaklak this Friday" data-url="https://www.pep.ph/guide/tv/8337/tv5-promises-scorching-finale-for-mga-nagbabagang-bulaklak-this-friday" data-desc="Who among Dahlia and Daisy's relatives will have to sacrifice their lives to save them from Ivy?" data-image="https://contents.pep.ph/images2/guide/7b73d8f0f.jpg"> Mga Nagbabagang Bulaklak this Friday" data-url="https://www.pep.ph/guide/tv/8337/tv5-promises-scorching-finale-for-mga-nagbabagang-bulaklak-this-friday" data-desc="Who among Dahlia and Daisy's relatives will have to sacrifice their lives to save them from Ivy?" data-image="https://contents.pep.ph/images2/guide/7b73d8f0f.jpg">