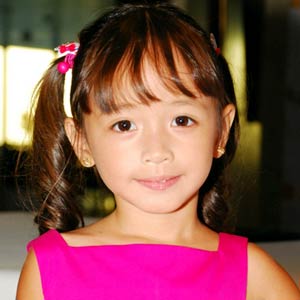 ---
PRESS STATEMENT FROM ABS-CBN:


"ABS-CBN's cute little mermaid, Mutya, graces Wansapanataym's episode titled "Joy's Toys" this Saturday.
"Masaya po ako na umarte po ulit sa TV. Ngayon po wala po ako buntot, bata po talaga ako sa Wansapantaym," Mutya shared.
"Mutya will share the screen with Nash Aguas, Makisig Morales, Gloria Sevilla, and Khaycee Aboloc.


"Directed by Francis Pasion and written by Noreen Capili, this Saturday's episode of Wansapanataym will show the value of letting go. The story will revolve around Joy, a lonely child who finds comfort and companionship in her toys. When her big brother decides to throw away her playthings, the toys come to life and ask help from Joy. How will the little girl help the toys?


"Meanwhile, Wansapanataym trounced GMA 7's one-month old sitcom Andres De Saya according to Kantar Media last Saturday (June 25). The mentioned ABS-CBN Saturday series earned a 22.4% national rating versus GMA-7's sitcom's 14.8%.


"Wansapanataym airs every Saturday on ABS-CBN after TV Patrol Weekend."
Ed's Note: When content falls under "Press Statement," this means that the material is fully and directly from the company itself. The use of open-and-close quotation marks to envelope the entire text shows as much. This also means that PEP is not the author of the statement being read. PEP is simply providing the information for readers who may be interested.
SHARE THIS STORY " data-url="https://www.pep.ph/guide/tv/8404/mutya-will-topbill-wansapanataym39s-episode-titled-joy39s-toys" data-desc="She will be joined by Nash Aguas, Makisig Morales and Gloria Sevilla in this fantasy show." data-image="https://contents.pep.ph/images2/guide/a8ed78e8f.jpg"> " data-url="https://www.pep.ph/guide/tv/8404/mutya-will-topbill-wansapanataym39s-episode-titled-joy39s-toys" data-desc="She will be joined by Nash Aguas, Makisig Morales and Gloria Sevilla in this fantasy show." data-image="https://contents.pep.ph/images2/guide/a8ed78e8f.jpg"> " data-url="https://www.pep.ph/guide/tv/8404/mutya-will-topbill-wansapanataym39s-episode-titled-joy39s-toys" data-desc="She will be joined by Nash Aguas, Makisig Morales and Gloria Sevilla in this fantasy show." data-image="https://contents.pep.ph/images2/guide/a8ed78e8f.jpg">
SHARE THIS STORY
" data-url="https://www.pep.ph/guide/tv/8404/mutya-will-topbill-wansapanataym39s-episode-titled-joy39s-toys" data-desc="She will be joined by Nash Aguas, Makisig Morales and Gloria Sevilla in this fantasy show." data-image="https://contents.pep.ph/images2/guide/a8ed78e8f.jpg"> " data-url="https://www.pep.ph/guide/tv/8404/mutya-will-topbill-wansapanataym39s-episode-titled-joy39s-toys" data-desc="She will be joined by Nash Aguas, Makisig Morales and Gloria Sevilla in this fantasy show." data-image="https://contents.pep.ph/images2/guide/a8ed78e8f.jpg"> " data-url="https://www.pep.ph/guide/tv/8404/mutya-will-topbill-wansapanataym39s-episode-titled-joy39s-toys" data-desc="She will be joined by Nash Aguas, Makisig Morales and Gloria Sevilla in this fantasy show." data-image="https://contents.pep.ph/images2/guide/a8ed78e8f.jpg"> " data-url="https://www.pep.ph/guide/tv/8404/mutya-will-topbill-wansapanataym39s-episode-titled-joy39s-toys" data-desc="She will be joined by Nash Aguas, Makisig Morales and Gloria Sevilla in this fantasy show." data-image="https://contents.pep.ph/images2/guide/a8ed78e8f.jpg">