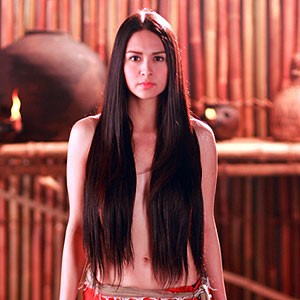 ---
PRESS STATEMENT FROM GMA-7:
"Broadcast station GMA Network, Inc. (GMA) dominated the ratings for the first semester and month of June 2011 across the entire country, especially in select key areas. This is according to the most widely recognized ratings service provider Nielsen TV Audience Measurement.
"Based on household data recorded for the first semester of 2011 (June 26 to 30 based on overnight readings), GMA was the number one channel in National Urban Philippines with 33.1 share points, higher compared to ABS-CBN's 32.1 and TV5's 15.2
"For the covered period, GMA also performed well in Urban Luzon and Mega Manila, which are important areas to the trade as these comprise 77 percent and 58 percent of total television households in the country, respectively.
"GMA had 36.6 share points in Urban Luzon against ABS-CBN's 27.2 and TV5's 16.9; and 37.6 share points in Mega Manila versus ABS-CBN's 25.8 and TV5's 17.6.
"For the month of June alone in Urban Luzon, GMA was comfortably ahead with 36.7 points, much higher compared to ABS-CBN's 28.3 and TV5's 16.7; while in Mega Manila, GMA posted 37.2 share points, ahead of ABS-CBN's 27.4 and TV5's 17.4.
"In fact, GMA dominated the lists of overall top 30 programs in Luzon and Mega Manila with 20 and 19 entries in respective rosters.
"GMA's most ambitious primetime project Amaya, starred by Kapuso primetime queen Marian Rivera, is currently the highest rating program on free-to-air television as it finished June with 37.5 household share points in Mega Manila and 36.7 household share points in Luzon. Other station-produced Entertainment TV Telebabad programs, namely, Captain Barbell and Munting Heredera, likewise made it to the top 10 lists in both areas.
"GMA likewise led in delivering impartial news and information as flagship newscast 24 Oras was the lone primetime news program in the top ten lists in Mega Manila and Luzon.
"The recently launched Sinner or Saint that features the first tandem of Bianca King and Dennis Trillo on daytime TV was a certified hit compared to ABS-CBN's Kapamilya Blockbuster and Frijolito. The afternoon drama series garnered 36 household share points in National Urban Philippines, 40.1 points in Luzon, and 40.3 points in Mega Manila, almost twice the performance of competitor programs.
ADVERTISEMENT - CONTINUE READING BELOW
"The Nielsen TV Audience Measurement used by GMA is used by 21 companies including two other local networks, namely, TV5 and Solar Entertainment; Faulkner Media; CBN Asia; 13 advertising agencies and three regional clients. On the other hand, ABS-CBN is the only local major TV network reportedly subscribing to Kantar Media, formerly known as TNS.
"In Mega Manila alone, the Nielsen TV Audience Measurement has a sample size of 880 homes as compared to Kantar Media's 770 homes. Nationwide, Nielsen has a total sample size of 2,005 homes compared to the lower sample size of 1,370 utilized by Kantar Media."
Ed's Note: When content falls under "Press Statement," this means that the material is fully and directly from the company itself. The use of open-and-close quotation marks to envelope the entire text shows as much. This also means that PEP is not the author of the statement being read. PEP is simply providing the information for readers who may be interested.