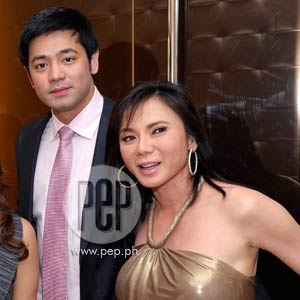 ---
Indeed, love conquers all.
When Dra. Vicki Belo and Hayden Kho announced their engagement recently, they did not reveal much details about it except to say that they had been engaged for some time.
But for the July 10 episode of Rated K, Dra. Vicki and Hayden told host Korina Sanchez-Roxas how the engagement took place in Downtown Aquarium in Houston, Texas last December 2010.
Korina asked the couple how they dealt with the negative criticism generated by their decision to tie the knot.
Dra. Vicki pointed out, "Gusto naming mag-enjoy privately. Pero alam na namin na ganito ang mangyayari. Pag sinabi namin, maraming batikos."
On the other hand, Hayden remarked with a smile, "May balance naman. May ibang mga tao, natutuwa... so far within our circle, mas marami namang masaya."
Dra. Vicki added: "Sabi ko nga kay Hayden, if I had to go through all of that para maging ganito ka na, worth it na rin kasi sobrang nag-mature, sobrang nag-change."
ADVERTISEMENT - CONTINUE READING BELOW
The couple has weathered a lot of challenges in their relationship, including Hayden's involvement in a sex video scandal a few years ago.
POSITIVE FEEDBACK. The surgeon's best friends Lali Etriot, Dr. Philip Bunag and Lianne Bautista shared their thoughts about the engagement of Dra. Vicki with Hayden.


Lali Etriot observed, "You can see it in her eyes. Usually Vicki's eyes are glowing...but during that time [Vicki and Hayden's separation], it was dull.
Dr. Philip Bunag commented: "Any relationship for that matter, especially in a happy relationship, it would end up there [marriage].
Lianne Bautista said, "You can go in this relationship forever... you can stay boyfriend-girlfriend. You don't have to get married. But then he was going to propose, ibang story na..."
Dr. Karen Lipana, a friend to both Hayden and Vicki, simply stated, "They love each other. They have a reason for doing it talaga. The reason is right."
ADVERTISEMENT - CONTINUE READING BELOW
"UNDERWATER" PROPOSAL. Hayden proposed to Dra. Vicki in a restaurant with a huge aquarium. While the couple were having dinner, one of the divers inside the aquarium brought a sign that says "Hayden loves you."
Dra. Vicki recounts, "Biglang may nag-dive sa aquarium na malaki. Pagtingin ko sa left side, wala na siya [Hayden] doon. Nasa floor na siya."
The diver then showed another sign that stated, "Please Say Yes."


Dra. Vicki recalls that her then boyfriend knelt before her. "I remember [Hayden] said, 'Will you please be my wife?' And then he gave the ring and then he was really waiting. Ako naman, 'Yes! Yes! Yes!'"
But surprise didn't end there.
After they left the restaurant, a pumpkin-shaped carriage was waiting for them. Dra. Vicki felt like she was "Cinderella" with her prince by her side. Dra. Vicki giggled as she said, "Sa labas may coach or what you call that na pumpkin. It was Christmas kaya medyo malamig."
ADVERTISEMENT - CONTINUE READING BELOW
Dra. Vicki admitted that she didn't think her relationship with Hayden would lead to marriage. "Actually, wala na talaga akong planong mag-asawa ulit. I really want the blessing from God. That's really the main thing. I really want a relationship that is blessed."
What is the reaction of Dra. Vicki's children, Quark and Cristalle?


"Alam ko naman na they love me and because of the history, they're just worried about me. I'm so sorry. My happiness is causing you so much unhappiness. I'm really sad," said Vicki.
Hayden admitted that he sought the blessing of Dr. Vicki's mother, Tita Nena. And to disprove critics and detrators' accusation that he is after Dra. Vicki's wealth, Hayden even asked for a pre-nuptial agreement.


In fact, Atom Henares, Vicki's ex-husband and the father of Quark and Cristalle, is the one working on the document.
ADVERTISEMENT - CONTINUE READING BELOW
Atty. Imelda Manguilat, Dra. Vicki's attorney stated, "Ang gusto niya, complete separation. Yung kay Vicki, kanya lang. Pero very clear yung kay Vicki, kanya lang talaga. Hindi makikialam si Hayden.
Hayden stated "Maraming nagsasabi, I'm after the money. Sabi ko kay Vicki, 'Ang sa iyo, sa iyo, ang sa akin, akin.' She was so happy..."
Hayden further added "At the end of the day, I'm marrying Vicki and not naman them...
The couple have not yet finalized a date for their wedding. When asked who she would like to design her gown, Dra. Vicki replied that she might ask Monique Lhuillier to do it for her.