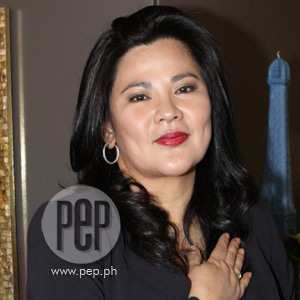 ---
Ali Sotto gets personal with the press as she fondly narrated anecdotes about "bebe ko."

The girl she's talking about is none other than Angel Locsin.

Ali admits that she has a unique relationship with the former girlfriend of her late son Miko, who died in 2003.

She even narrated an anecdote about her bebe [her monicker for Angel]. "Nung I had to leave and stay in Madrid for three years, before I left, sabi ko, bebe ko, yung pug na bigay ni Miko, si Java, sabi ko alagaan mo, pagbalik ko, babawiin ko."

The two also happen to share a common makeup artist named George. When George became very ill, Ali relates that she and Angel visited him in the hospital.
One of Ali's favorite memories of Angel is her latest birthday, when Angel came to the house, "with a very extravagant gift, pero natouch ako doon sa card that came with the gift. She wrote, you inspire me and I love you. It means so much to me," Ali shares.
How does their relationship flourish amidst the volatile world of showbiz friendships and relationships?
Ali says, "Hindi matatawaran ang pinagdaanan namin, na for her to lose yung first love and for me to lose a child and to go through the grief together, unbeatable yung what we went through and we are surviving.
"I don't need to label it, I just know that she's very dear to me, and I want the best for her."
When it comes to Angel's love life, how involved is Ali now?
"She just knows that I constantly pray for her." Ali explains, "Before, yung mga away niya, I take on the cudgels for her, na ako yung nang-aaway, fierce! So ngayon alam ko naman yung mga nangyayari, it's a very comfortable relationship, na walang, 'I should, she should or I must, she must.' Walang ganoon, walang label, walang expectation.
ADVERTISEMENT - CONTINUE READING BELOW
"After Miko died, then she fell in love with Oyo Boy [Sotto], then Luis [Manzano], si Oyo Boy hindi na niya pinakilala sa akin. Pero si Luis, she and Luis came to the house and then I asked her, what about this Phil Younghusband, sabi niya, 'Tita wala pa naman.' Pagdating, alam no naman, pag dumating na sa ganoon, sabi ko, alam ko, expect ko naman na magbigay pugay siya. Alam mo naman na dadaan sa butas ng karayom."
Did she give Angel any advice during this time?
Ali smiles and says, "She's old enough and I trust her. The most I can do, and which I think is the best, is to pray for her...that she finds her God's best, a man who is truly worthy and deserving of her because she deserves a really good man. I wish and pray she will find the man who will make her happy."


PERSONALAN WITH ALI SOTTO. For now, Ali is busy with her newest show on GMA News TV Channel 11 titled Personalan.
Ali explains that it's called Personalan because it's no-holds-barred show, and she doesn't hold back either. She shares that she doesn't read from prompters, that many times it's really unscripted. She says she likes to keep it hands-on because the situations of their guests, the case studies in fact, are so mobile and dynamic that oftentimes it's touch and go, that you really can't manipulate the guests.
Though the guests get heated in their confrontations, the show is firm and strict on implementing ground rules: "Walang suntukan, idaan sa masinsinan na pag-uusap, hindi kailangan sa violence idaan ang premise ng show."
Despite these reminders, shouting and cursing can happen.
Veteran host Ali says, "The fact na lumapit sa amin, may willingness to resolve pero they don't know how lang."
ADVERTISEMENT - CONTINUE READING BELOW
Ali says she is really pleased with the set-up. The intimacy of the studio, being more comfortable now, allows her to delve into more personal issues with her guests.
Does she get to voice her opinion on who and how the guestings will happen? That's something, she says, that she leaves to the staff who know best.
Why should people tune in to Personalan? Ali expounds, "It's a learning experience, a study in life. If you think you've heard it all, seen it all, guess again. It can be stories that they can relate to, na may shock value, yung 'puwede pa pala yun', stories that have entertainment value, pero always there is always something you can learn.
"Watch it, kasi emotionally invested ako! People have been calling for better TV fare, may public outcry, and eto yung chance for them to see that. So nananawagan kami na suportahan eto, isang show na kakapulutan ng maganda, and if they want to be proactive, please support this show."
Another good thing about the show is the presence of life coaches, a pool of psychologists from Psychconsult who offer their services pro-bono and are very happy to have this greater venue to offer help.


Program manager Enri Calaycay explains that the life coaches don't just dispense advice, they show people through practical, doable activities and sessions (on-air) how to handle different sets of problems. For example, a lola who encountered a problem between her two adopted sons stemming from jealousy and misunderstanding was instructed to take her frustration out by employing non-violent means and taking practical steps to start the resolution of the problem.
The airing of such helpful sessions with the life coaches included in each episode is a first and shows the common tao how they can be on their way to conflict resolution as well, even for that short while. Because of this helpful session, the show is able to end on a positive note, empowering the persons to take action, one step at a time.


On comments that Personalan reminds viewers of TV5's Face to Face, Ali explains, "It's a formula na may diskarte sila and kami, may diskarte din, kanya-kanya execution na. Wala namang nag-patent ng formula na eto di ba?"
ADVERTISEMENT - CONTINUE READING BELOW
Doing a show like this is emotionally exhausting, but Ali says that she still draws her inspiration from her late son Miko.


"Until now, si Miko... and yung circumstance ng guest, kasi ang ikli ng buhay. It's self-indulgent na sabihin mo, 'Sana when I leave, I leave the world a better place'. But, you know, kahit for the time you're here, you touch one spirit.
"Mayroon kang mission ng show, hindi naman na within the hour magbati kayo, ang plastic naman na if within the hour bati na kayo. If it happens, it happens. But what we can promise is to put them on the right track so eto ang unang hakbang sa resolution ng issue. So kung mayroon talagang desire na maayos, kahit one life, worth it na yun."
Incidentally, Miko is part of the show in a way. Ali has chosen to follow a gesture she first saw Miko do. "I saw it doon sa first pictorial ni Miko when he was 18, sabi ko napaka-natural ng batang eto, kasi he always wanted to be in showbiz. Yung gesture na yun with his hand on his chest, where his heart is, feeling ko, eto appropriate for the show."

REPLACEMENT FOR STARBOX. For her, it's validating, that right after the cancellation of her morning show Starbox, the Kapuso network trusted her enough to offer her another show.
Program manager Enri explains the decision, "kasi we all know her as a really good host, experience-wise, marami siyang masasabi about life, sa mga pinagdaanan niya. With her personality, in touch siya sa masa. Siya yung kapag kausap niya ang case study, common people, hindi sila nahihiya, kasi kilala siya na pwede siyang kausapin about it, hindi na sila naintimidate. Siya rin yung kaya niya maging firm, na kaya niyang sabihin sa case study, na hindi, ganito talaga ang problema. Mayroon din siyang sense of humor, nandoon na lahat sa kanya, kaya perfect talaga!"
ADVERTISEMENT - CONTINUE READING BELOW
Ali says that the show has also been teaching her so many things. She relates, "it's the whole spectrum of emotions. Yesterday there was an episode we were taping that I was very teary-eyed because there was this man, na parang beautiful spirit siya talaga. His girlfriend of two years, pinag-uusapan na talaga nila about getting married. Dinala niya sa MOA at hinintay niya ang beautiful sunset and the girl upon seeing the ring, tumalikod, uwuwi, nag-empake! Nagtago sa bahay ng tita niya." What surprised Ali about this story is that the guy is the one who is always reaching out the girl, saying sorry and things like that. If you want to learn what the real story behind this tale of broken hearts, better catch Personalan to find out!
The most 'windang moments' on the show are when she has 'beki guests', because she says, "di ko maintidihan, it's really so informative and more of a study for me, because they are so out of the box and unpredictable."
Even though she does five shows a week, Ali admits, "when you love your work, it's exciting, it really fires me up."
She says that she wants to add a positive twist to Personalan. If she'd ever get the chance to guest a celebrity on the show, though, she'd want it to be someone like John Lapus, "kasi masarap sumagot, makulay!"
So will there be celebrity guests? Ali says they have enough interview time and don't really need the platform of Personalan. But if it's going to be a possibility, she is of course very open to it. The format of the show, Ali says is that its strength is in the "common tao, it's such a huge learning experience for me ganito pala ang realidad. kapag iba ang mundo na ginagalawan mo, hindi mo alam yung goings-on ng iba, like the gay community, ah ganoon pala? It makes me feel, strengthens my belief that the more you learn, the less you know... ang dami kong di alam! It's so dynamic, lalo na ang buhay ng tao. if you throw yourself in, engrossed ka talaga!"
ADVERTISEMENT - CONTINUE READING BELOW
Why isn't Ali taking part in any soaps currently? She clarifies that she's at the age na "kapag ang part mo palamuti, okay lang hindi na tanggapin, kasi hindi rin naman ako mananalo ng acting award," amidst a hearty laugh, because she knows that someone her age isn't in the running anymore to collect awards reserved for the younger ones on TV's landscape.
She jokes, "dumating ako sa edad na eto, na may luxury na ako to say no." She'd love to get her hands though on musicals featuring Imelda Marcos, indie films and other offbeat roles and even newscasting. She says with a grin, "masarap kung yung role mo yung kinaiinisan, na papalakpakan ang character mo kapag namatay."

ADVOCATE FOR THE EYE BANK FOUNDATION. Ali also continues to involve herself with the Eye Bank Foundation, of which Miko is the poster boy, and Ali explains that "sa mga hospitals and morgue may poster ni Miko encouraging people to donate their corneas. According to Eye Bank, it has made their work easier na lapitan ang pamilya ng kakamatay pa lamang because there is a certain window of time to harvest, and say ' would you like to donate and then sabihin yung parang kay Miko?'" Ali willingly goes and speaks at universities and hospitals on this cause, pushing also for the need for a grief room where families can be talked to and gather together.
She recounts the incident of talking with AJ Perez's mother, Marivic on donating AJ's corneas. Can the identity of the donee be revealed? "If the donor and the donee's family agree that's it's okay to reveal, especially if it's going to further the mission, and kung celebrity, it helps na... so sabi ko sa mom ni AJ, na pwede si AJ ang poster boy para kung may lumapit pwede sabihin, yung parang kay AJ Perez?"
ADVERTISEMENT - CONTINUE READING BELOW
Even though the decision to donate corneas upon a loved one's death is not common, Ali says that it how she was raised, "How can you psychoanalyze that single moment, it's divine, I guess. Last night when I went to a wake, tinanong rin ako, paano ko naisip gawin yun in my moment of grief, it's really divine. Sa akin, ang mission ni Miko sa buhay niya is to be an organ donor and instrument lang ako and I was precisely chosen to be his mother para ma-fulfill ang kanyang mission."
Personalan airs weekdays at 5 pm on GMA News TV Channel 11, replacing Full Time Moms.