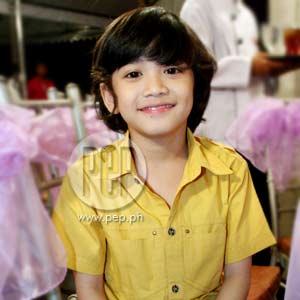 ---
PRESS STATEMENT FROM ABS-CBN:
"Child star Zaijian Jaranilla will cast a spell on Wansapanataym's "Dirty Larry" episode this Saturday.


"ABS-CBN's Saturday TV program shares a story about a boy (Larry) who hates taking a bath. One day, the germs on Larry's skin come to life and attack his mother. In the end, he saves his mother and learns the important lesson on proper hygiene.


"Under the direction of Erick Salud, Zaijian will be sharing the small screen with Precious Lara Quigaman and Erik Fructuoso.
"Wansapanataym airs this Saturday after TV Patrol Weekend on ABS-CBN."
Ed's Note: When content falls under "Press Statement," this means that the material is fully and directly from the company itself. The use of open-and-close quotation marks to envelope the entire text shows as much. This also means that PEP is not the author of the statement being read. PEP is simply providing the information for readers who may be interested.
SHARE THIS STORY Wansapanataym" data-url="https://www.pep.ph/guide/tv/8597/zaijian-jaranilla-returns-to-television-as-dirty-harry-in-wansapanataym" data-desc="Precious Lara Quigaman and Erik Fructuoso will also be part of ABS-CBN's Saturday afternoon series." data-image="https://contents.pep.ph/images2/guide/a647a61a3.jpg"> Wansapanataym" data-url="https://www.pep.ph/guide/tv/8597/zaijian-jaranilla-returns-to-television-as-dirty-harry-in-wansapanataym" data-desc="Precious Lara Quigaman and Erik Fructuoso will also be part of ABS-CBN's Saturday afternoon series." data-image="https://contents.pep.ph/images2/guide/a647a61a3.jpg"> Wansapanataym" data-url="https://www.pep.ph/guide/tv/8597/zaijian-jaranilla-returns-to-television-as-dirty-harry-in-wansapanataym" data-desc="Precious Lara Quigaman and Erik Fructuoso will also be part of ABS-CBN's Saturday afternoon series." data-image="https://contents.pep.ph/images2/guide/a647a61a3.jpg">
SHARE THIS STORY
Wansapanataym" data-url="https://www.pep.ph/guide/tv/8597/zaijian-jaranilla-returns-to-television-as-dirty-harry-in-wansapanataym" data-desc="Precious Lara Quigaman and Erik Fructuoso will also be part of ABS-CBN's Saturday afternoon series." data-image="https://contents.pep.ph/images2/guide/a647a61a3.jpg"> Wansapanataym" data-url="https://www.pep.ph/guide/tv/8597/zaijian-jaranilla-returns-to-television-as-dirty-harry-in-wansapanataym" data-desc="Precious Lara Quigaman and Erik Fructuoso will also be part of ABS-CBN's Saturday afternoon series." data-image="https://contents.pep.ph/images2/guide/a647a61a3.jpg"> Wansapanataym" data-url="https://www.pep.ph/guide/tv/8597/zaijian-jaranilla-returns-to-television-as-dirty-harry-in-wansapanataym" data-desc="Precious Lara Quigaman and Erik Fructuoso will also be part of ABS-CBN's Saturday afternoon series." data-image="https://contents.pep.ph/images2/guide/a647a61a3.jpg"> Wansapanataym" data-url="https://www.pep.ph/guide/tv/8597/zaijian-jaranilla-returns-to-television-as-dirty-harry-in-wansapanataym" data-desc="Precious Lara Quigaman and Erik Fructuoso will also be part of ABS-CBN's Saturday afternoon series." data-image="https://contents.pep.ph/images2/guide/a647a61a3.jpg">