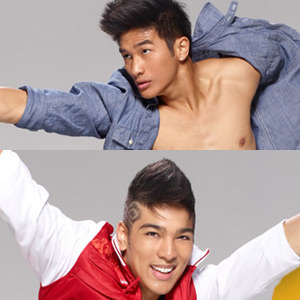 ---


Two Filipino-Americans have made it to the Top 6 of the American reality show, So You Think You Can Dance Season 8.


Contemporary dancer Marko Germar and hip-hop dancer Tadd Gadduang continue to make waves on the show. Marko was considered to be safe in the top 4 but Tadd landed in the bottom 4.

Both of them are competing for the prestigious title "America's Best Dancer" and the cash prize of $250,000.
Tadd, who resides in Utah, wore a Philippine flag shirt for the past two episodes. This time, he and his partner Lauren Froderman donned fedora hats and black and white outfits. Dancing to "Another One Bites the Dust", Tadd showed off sleek dance moves with the equally talented Lauren. Their jazz-inspired number was well-received by the audience and the judges.
Marko, who hails from Guam, had been tagged early on as a favorite among viewers and the judges. His mother was present at the studio to watch as he danced to the song with lyrics that go: Oh Mother, I can feel the soil falling over my head / See, the sea wants to take me / The knife wants to slit me /Do you think you can help me ?
Marko and partner Allison Holker danced to the tune of "I Know It's Over" by Jeff Buckley. The young man bared his upper torso while Allison wore a flowing black halter dress. Tears streamed down Marko's face after his heartfelt performance.


The four judges—Lady Gaga, Mary Murphy, Nigel Lythgoe and Rob Marshall—gave them a standing ovation. The performance particularly touched Lady Gaga's heart.
Lady Gaga said tearfully: "I am just so proud of you...I know you really love to dance and I know your mom's here. There are so many things I did know when I was younger and so many things I wish I could take back. And I felt every moment of that through your dance. You are absolutely incredible. Congratulations whether number 1, number 3, number 10...who cares. You've got it!"


Host Cat Deeley asked Marko to give a brief message. He was emotional as he told the crowd: "This is actually the first time that my mom got to watch the show live. She flew in from Guam yesterday and I dedicated that piece to her. I wasn't the best kid...I was a bit of a brat. I said some things...I'm sorry and I love you."
ADVERTISEMENT - CONTINUE READING BELOW

Marko's mom was just as emotional as she listened to her son's words.
Rob Marshall then gave this comment about the performance: "First, I have to say something about Allison. She is amazing. She is a true, true artist. And to watch the two of you together, it's just an incredible partnership...It's so fluid and beautiful... we're so moved by it."
Another judge, Mary Murpy, gushed: "That was amazing...You just can't say it enough with a boy like you and the way you dance. How sincere you are. How honest you are...You are by far and still my favorite dancer on the show."
Nigel Lythgoe encouraged everyone to follow the example of Marko and express their love and gratitude for their parents.
"We've just seen a moment here that is more than just the competition. Just watching this and how he danced and taking this opportunity to speak to his mother who I know supported him throughout his dancing...I think it's an absolute remarkable moment that a son can turn around and say to you 'I love you.' So many of us didn't do that and so many of us now don't have the opportuniy of doing it. I do hope that other people watching the show turn now to their mothers and say what they want to say while they can."

As a result, the Top 6 of So You Think You Can Dance Season 8 are Sasha Mallory, Melanie Moore, Caitlynn Lawson, Marko Germar, Ricky Jaime, and Tadd Gadduang.
So You Think You Can Dance's finale is set to air in the U.S. on August 11, 2011.