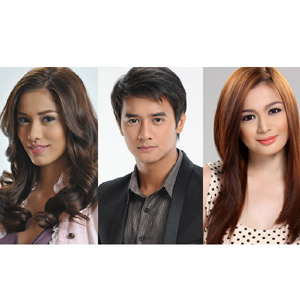 ---
PRESS STATEMENT FROM ABS-CBN:
"Yes. I am kind of threatened."
"This is what Lauren Young said when asked bout the noticeable following being created by the team up of her loveteam JM De Guzman and Charee Pineda, who plays a new character in their hit primetime teleserye Mula sa Puso.
"Of course there is that fear that viewers will like their teamup more. But this threat comes in a good way for me. I use this to push myself to do better in my work," she clarified.
"Lauren also added that she trusts the show's production team to make whatever changes they want in the story and that she will just do what the script asks her to do.
"Charee, on the other hand, doesn't think Lauren should be threatened at all.
"We all know that it's Via and Gabriel in the end. Rest assured, Lauren and I are good friends off cam. I'm just really happy that I have become part of Mula sa Puso," she said.
"Meanwhile, if given the chance to choose between the two, JM confidently answered that he will pick both.
"Lauren is a very effective onscreen partner because she can move me with her portrayal in all the scenes we have done. She is really good when it comes to drama."
"As for Charee, we already have good rapport and chemistry on TV because we've done it before in Alyna. We are very comfortable with each other," JM explained.
ADVERTISEMENT - CONTINUE READING BELOW
"Viewers continue to watch their love triangle weeknights on Primetime Bida. Via (Lauren Young) is now bound to marry her childhood friend Michael (Enrique Gil) while Gabriel (JM De Guzman) seems to be ready to fall for Kate (Charee Pineda) especially after he learns of the marriage.
Is this the end of Via and Gabriel's love story? How long can Kate show her love to Gabriel now that her cancer has recurred?
"Don't miss Mula sa Puso, weekdays after Marry Me Mary on ABS-CBN's Primetime Bida."
Ed's Note: When content falls under "Press Statement," this means that the material is fully and directly from the company itself. The use of open-and-close quotation marks to envelope the entire text shows as much. This also means that PEP is not the author of the statement being read. PEP is simply providing the information for readers who may be interested.
SHARE THIS STORY Mula sa Puso" data-url="https://www.pep.ph/guide/tv/8612/lauren-young-admits-feeling-threatened-by-charee-pineda-in-mula-sa-puso" data-desc="Charee says that she and Lauren remain good friends." data-image="https://contents.pep.ph/images2/guide/af69926bd.jpg"> Mula sa Puso" data-url="https://www.pep.ph/guide/tv/8612/lauren-young-admits-feeling-threatened-by-charee-pineda-in-mula-sa-puso" data-desc="Charee says that she and Lauren remain good friends." data-image="https://contents.pep.ph/images2/guide/af69926bd.jpg"> Mula sa Puso" data-url="https://www.pep.ph/guide/tv/8612/lauren-young-admits-feeling-threatened-by-charee-pineda-in-mula-sa-puso" data-desc="Charee says that she and Lauren remain good friends." data-image="https://contents.pep.ph/images2/guide/af69926bd.jpg">
SHARE THIS STORY
Mula sa Puso" data-url="https://www.pep.ph/guide/tv/8612/lauren-young-admits-feeling-threatened-by-charee-pineda-in-mula-sa-puso" data-desc="Charee says that she and Lauren remain good friends." data-image="https://contents.pep.ph/images2/guide/af69926bd.jpg"> Mula sa Puso" data-url="https://www.pep.ph/guide/tv/8612/lauren-young-admits-feeling-threatened-by-charee-pineda-in-mula-sa-puso" data-desc="Charee says that she and Lauren remain good friends." data-image="https://contents.pep.ph/images2/guide/af69926bd.jpg"> Mula sa Puso" data-url="https://www.pep.ph/guide/tv/8612/lauren-young-admits-feeling-threatened-by-charee-pineda-in-mula-sa-puso" data-desc="Charee says that she and Lauren remain good friends." data-image="https://contents.pep.ph/images2/guide/af69926bd.jpg"> Mula sa Puso" data-url="https://www.pep.ph/guide/tv/8612/lauren-young-admits-feeling-threatened-by-charee-pineda-in-mula-sa-puso" data-desc="Charee says that she and Lauren remain good friends." data-image="https://contents.pep.ph/images2/guide/af69926bd.jpg">