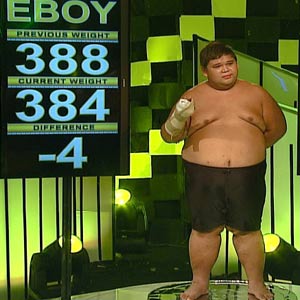 ---
"Thank you for the lessons, thank you for the scolding, thank you for everything," said Francisco "Eboy" Bautista as he was eliminated last August 1.
With his initial weight of 481 pounds, Eboy is considered one of the heaviest Biggest Loser contestants in history. He lost a total of 97 pounds during his stay in the camp, allowing him to leave the show with a weight of 384 pounds.
Eboy was voted out by fellow Bigating Pinoys in the elimination ceremony after falling under the yellow line with former teammate Winwin.
Having lost only 4 lbs (388 lbs to 384 lbs) in the last weigh-in, Eboy's weight loss was below the yellow line. Winwin, another contender in danger of being eliminated, lost only 2 lbs (206 lbs to 204 lbs).
Although disappointed with his early finish in the competition, Eboy said he remains positive that he will be down to his ideal weight sooner or later.
"There was still so much to learn in the camp. But aside from getting ousted, I have no regrets. I had a total experience. From all the body aches to my hand accident, I wouldn't trade those moments for anything," he said.
Right now he is focused on maintaining a healthy lifestyle and even encouraging his friends and family to also have good health. He wants to prove that nothing is impossible even with overweight people like him.
"I learned from Art that you can do things, especially exercise, if you just stop thinking and actually stand up and do it. Like our trainer Chinggay said, never say you can't until you try. You are stronger than you think you are," shared the camp's resident funnyman.
ADVERTISEMENT - CONTINUE READING BELOW
As for his bet to win the title, Eboy said anyone has a right to become the first Pinoy Biggest Loser. "After Alan left, I really felt I would be the one. Now, looking at those who were left, anyone can be the Biggest Loser," he explained.
BIGATING PINOYS ENTER MILITARY CAMP. Meanwhile, the remaining Bigating Pinoys—Andy, Angela, Art, Hazel, Larry, Leigh, Raffy, Ryan and Winwin—are now experiencing a different kind of training after being brought to a military camp.
There they get a taste of what Marines undergo to remain fit and disciplined, such as getting up and sleeping early, taking a bath in 100 counts, eating "Marine-style" and rappelling.
From the get-go, some of them expressed resentment about how they were being treated by their "trainer" for the week, Staff Sgt. Pasco. According to Art, who experienced violence growing up, he doesn't like being shouted at and ordered around. Larry, on the other hand, was excited to try the drills he used to do as a former policeman.
Can the Bigating Pinoys keep up with the pressure and discipline of a military training? Don't miss the exciting big challenge this week with game master Derek Ramsay. Fighting for immunity in the coming weigh-in, all contestants are expected to give their all in the challenge.
Also find out the romantic reward that Angela will get as the Biggest Loser of the week, the first female to be named so.


The Biggest Loser Pinoy Edition airs after Minsan Lang Kita Iibigin on ABS-CBN's Primetime Bida ng ABS-CBN.
ADVERTISEMENT - CONTINUE READING BELOW