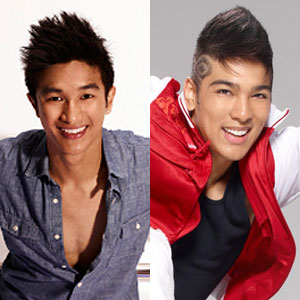 ---
Fil-Am dancers Markko Germar and Tadd Gadduang have entered the Top 4 of So You Think You Can Dance, which will have its finale on August 11, 2011.
Their individual and "pair" performances thrilled the judges and audience alike. Marko was paired up with Caitlin.
Dancing to "Heavy in your arms" by Florence + the Machine, the pair moved with fierceness and their powerful emotions were very much evident. As a result, their performance impressed producer and choreographer Nigel Lythgoe, ballroom expert Mary Murphy, Cristina and krumper Lil C.
Lil C was the first judge to express his view. "When I want to emphasize and put my intensity into something, I put a hash tag on it. This routine was 'buck.' This routine was double hash tag buck...so reckless. It was murder risk. Loved it. That's all I gotta say."
Judge Cristina remarked, "Wow...Marko, they keep referring to the woman as the beast. My friend you are a beast. Your aggression was so powerful, so palpable. It was wonderful. Caitlin, finally...that was your moment. It's your time."
Mary Murphy commented on Caitlin first. "This one was one of your best numbers, Caitlin. You had another breakthrough...When you dream about something you really want it, you can make those changes in your emotion tonight. You have this amazing facility, flexibility...But this time you brought the true grit to it. You did take it to another level.
Regarding Marko's, she pointed out: "You've always been a beast. You've always been my favorite dancer on the show...You're just fearless. You're not afraid of anything. I love yah!"
ADVERTISEMENT - CONTINUE READING BELOW
Nigel, on the other hand, gave credit to the choreographer by saying, "Sonya Tayeh, I was a little upset with the chandelier routine. This routine more than makes up for it. You are a world-class choreographer."
He also said, "Caitlin, you came of age tonight. You showed us how mature you can be...So many people look on you and say 'she's a pretty girl.' You don't realize what a brilliant dancer you are..."
His comment on Markko was short but sweet. "You showed that every single time on that stage. You are sensational!"
TADD GROWS IN LEAPS AND BOUNDS. Dance partners Tadd and Melanie took on a different path, swaying with steamy seduction and tenderness as they danced to Shirley Bassey's "Love Story."
Impressed with Melanie, Nigel pointed out, "It's probably one of the best solos I've ever seen...Not only are you the original beast in this season, you are a brilliant actress as well as an incredible dancer. To star in that overdramatic piece where you're performing and its all drama...You did a wonderful arabesque on that chair, the technical side is there. But when he was about to kiss and you were open mouth, the breath in and the breath out, made just as much with all the technical dancing you did to me. You have all gone back to become my favorite dancer."
On Tadd's performance, he stated, "Tadd, to think that you are in this routine with probably one of the best dancers we've ever had in this series, to say you didn't suck is a compliment. The little things that you did like doing a cartwheel over the chair, you are outstanding in what you do so well. Many compliments to you!"
ADVERTISEMENT - CONTINUE READING BELOW
Krumper Lil C spoke to Melanie first. "If Tadd doesn't like you like that, I know that there are millions of men in America that will gladly fill in...I love that your artistry speaks for itself. You have this quiet fire. And I think that is what entices people. It just pulls everyone in...That was technical but at the same time sensual...You are extremely buck!"
"Your solo was so beefy!" was his emphatic remark on Tadd's performance. He added, "You are growing in leaps and bounds."
Judge Cristina, who was enthralled with Melanie's performance, said, "You've taken dance to another level for me...I love watching you! You are brilliant!"
On Tadd, she replied, "Your hands are so beautiful! I just watch your hands go... Wonderful! Keep surprising us."
Mary, the queen of ballroom, observed, "The love story here is that America has fallen in love with. I'm just privileged be here this season. It's fabulous!"
Joining Marko and Tadd in the Top Four of So You Think You Can Dance are Sasha Mallory and Melanie Moore.

(CLICK HERE to watch Marko's performance)

(CLICK HERE to watch Tadd's performance)