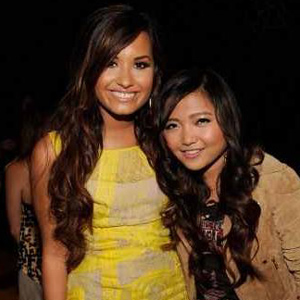 ---
Wearing a brown jacket over a black statement shirt, Charice served as one of the presenters in the 2011 Teen Choice Awards, which took place on the evening of August 7 at the Gibson Ampitheatre, Universal City, California.


This makes Charice the first Filipina to present an award in the history of the TCA, which is now on its 13th year of honoring music, movies, sports, television, and fashion icons as voted on by teens aged 13-19.


Charice told the crowd that night, "Demi Lovato broke through with her role in the TV movie Camp Rock and her own series Sonny with a Chance. And sold out shows across the country and South America."


Teen Wolf star Tyler Posey, who was with Charice on stage, also pointed out, "Unfortunately, her latest tour was cut short when Demi made the brave decision to seek help for her personal issues, including depression and an eating disorder that she has been dealing with most of her life. She then helped found the Love Is Louder Than the Pressure to Be Perfect campaign in conjunction with The Jed Foundation."


Charice added, "She is such an inspiration to all of us. She also wins a Teen Choice Award this year for Song of the Summer for 'Skyscraper.' The Acuvue Inspire award goes to Demi Lovato."


Just like the other winners of the TCA, Demi received a life-size surfboard as her trophy. Her campaign aims to promote mental health and happiness among teenagers and young adults.
Wearing a yellow dress with a short train and black high heels, Demi said she was so nervous that she could hardly speak. She expressed her gratitude for her fans by saying, "I couldn't have made it through the incredible journey that I went through without your help and your strength that got me through it. You guys are what got me through this last year. Love is louder! I love you guys so much. Thank you!"
ADVERTISEMENT - CONTINUE READING BELOW


After the awards night, Charice posted on her Twitter account: "That was freaking awesome! Demi Lovato is sooo nice. :) Thanks TCA! Now off to Japan. :)"

(CLICK HERE to read the complete list of winners in the 2011 Teen Choice Awards)


Velvet (Skycable channel 53) is slated to air the 2011 Teen Choice Awards tonight at 9pm, with encore telecasts on August 10, Wednesday (6:30p.m.) and August 13, Saturday (10p.m.)
(CLICK HERE to learn more)