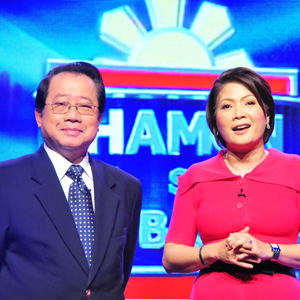 ---
PRESS STATEMENT FROM TV5:
"During the Legislative-Executive Development Advisory Council (Ledac) meeting, President Benigno Aquino III wanted the leaders of Congress to quickly pass the reproductive health (RH) bill, among other 12 priority measures. The Catholic Church has openly criticized the bill primarily on the issue of morality and the danger it brings to women, while the government insists that both natural family planning and modern methods should be equally presented and available to couples.
"While it has already been apparently "fine-tuned" into a responsible parenthood (RP) bill to make it more acceptable to the Catholic Church, the bill still doesn't sit well with some religious leaders.
"This Sunday (August 21) on NEWS5 Debates Hamon sa Pagbabago, different church leaders representing two opposing sides slug it out on whether this bill is considered a sin—"RH Bill: Kasalanan Ba?" with NEWS5 Chief Luchi Cruz-Valdes and lawyer Ricardo "Dong" Puno serving as moderators.
"Representing the anti-RH side are Bishop Deogracias Yniguez of the Catholic Bishops' Conference of the Philippines, Imam Aleem Said Ahmad Basher of the Imam Council of the Philippines, and Fr. Melvin Castro of the Family and Life Ministry. Meanwhile, Bishop Rodrigo Tano of the Philippine Association of Bible and Theological Schools, Pastor Rey Sison of the Knox United Methodist and Rev. Fr. Henry Janiola of the Canon of the National Cathedral Iglesia Filipina Independiente take the pro-RH side.
"Your opinions do count as TV5's online news portal InterAksyon.com will hold online polls and live chat during the show's airing. Viewers can also vote via SMS. Aside from the two opposing sides, there will be an "undecided" group who will vote using the ARS or Audience Response System on every issue that will be tackled during the debate.
ADVERTISEMENT - CONTINUE READING BELOW
"This heated debate happens this Sunday, 10:30pm, on NEWS5 Debates Hamon sa Pagbabago on TV5."
Ed's Note: When content falls under "Press Statement," this means that the material is fully and directly from the company itself. The use of open-and-close quotation marks to envelope the entire text shows as much. This also means that PEP is not the author of the statement being read. PEP is simply providing the information for readers who may be interested.