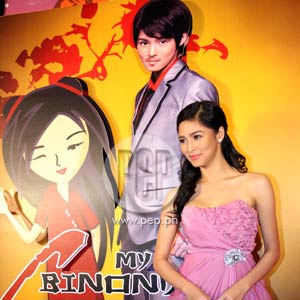 ---
ABS-CBN hosted the pilot week screening of its upcoming teleserye My Binondo Girl last night, August 21, 2011. The cinema lobby of SM North EDSA's The Block was partly filled with people streaming inside the movie house minutes before the screening started. A number of people waited patiently beside the press as they anticipated the arrival of the cast, especially Kim Chiu.
And they were not disappointed.
The whole troupe of the prime time drama-comedy arrived one after another and they were greeted with cheers, enthusiastic waves, and even LED signboards (KIMNATION; Kimforever). As guests steadily filed in inside the cinema, everyone was now ready to watch what My Binondo Girl had to offer.
My Binondo Girl tells the story of Jade (Kim Chiu), a little girl who grows up under her protective and loving mother Zheny (Ai-Ai Delas Alas) and brusque yet adoring Grandma Amor (Gina Pareño). Though never lacking in love and attention, Jade still yearns to feel the love of her estranged father Chen Sy (Richard Yap). Due to various unfortunate circumstances, Jade is forced to win the approval of her father by assuming the identity of a young boy called "Yuan."
MY BINONDO GIRL REVIEW. They only showed the pilot week, but it was enough for me to appreciate Kim's knack for giving her roles justice. But before going over the specifics on Kim, I'll talk about the teleserye's balanced set of veteran and newbie actors.
I'm surprised with Ai-Ai's role as Jade's mother Zheny. Ai-Ai toned down the comedy factor and focused on delivering her dramatic scenes with gusto. Zheny's pain and determination to bring up her daughter as a mother-slash-father-slash-siomai vendor is sympathetic to the real world single working parent.
ADVERTISEMENT - CONTINUE READING BELOW
Grandma Amor, on the other hand, is the public jeepney driver who is also the all-around repairman. Gina's no-nonsense and natural approach to her role makes her believable as a grandmother plying the streets of Binondo and Divisoria.
Jade's dad Chen Sy, who alienated himself from Jade, is played by Richard Yap. Culture-strict yet robotic at times, Richard can be dull and predicable in most cases. Cherry Pie Picache plays the part of Jean Sy, Chen's legal wife. Formerly the best friend of Zheny, Jean later became Zheny and Jade's oppressor. Viewers at first would sympathize with Cherry Pie's character for her misfortunes and no blame could be put on her slow transformation from supporting best friend to worst enemy. Cherry Pie will certainly have the audience love and hate her at the same time.
Not much was revealed about Chen's business partner Edison Wu (Ricardo Cepeda) and his wife Ningning Wu (Glydel Mercado), though I suspect that their characters will complicate everyone's lives in the following weeks. I think Ricardo and Glydel's characters wear masks of betrayal and it would be interesting to see to how their roles would slowly develop—it is certainly something worth looking forward to.
Playing the Wu children are Andy (Xian Lim) and Trevor (Matteo Guidicelli). They have been only introduced in the screening but will prove pivotal in Jade's future later on.
Onyx (Jolo Revilla) is Jade's best friend and protector. Ultimately, their relationship will blossom into something more, but that's to be revealed later. Jolo has good chemistry with Kim and he exudes both wit and charm whenever they are together. However, Jolo can be a little extreme when delivering his lines. I found myself commenting "Oh, he was being funny—I thought he was mad. Oops."
ADVERTISEMENT - CONTINUE READING BELOW
Kim Chiu is perfect for the role of Jade. Her talents in playing a girl being boyish, a boy being a boy and a girl with feelings for a boy is boggling in a good way. If it's time to be a boy, you see a lanky yet convincingly pogi Kim (moustache and all), but that masculine image won't etch too much on the mind by the time Kim becomes the pretty Jade again.
Jade's sacrifices for the sake of her loved ones and her drive to get her father's recognition are emotionally played out by Kim without overdoing it. Her sense of balance and professionalism in tackling the role is acute in bringing Jade and Yuan to life.
And she does both roles justice, I applaud her for that.
For a pilot week screening, My Binondo Girl is decently paced. I was given a brief lesson on Chinese culture and the complications it creates towards Filipino practices. Unlike some overly-dramatic and unrealistic situations of other teleseryes, this one may prove totally engrossing with suspense while keeping the kilig factor ready at hand.