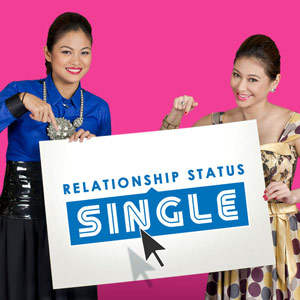 ---
PRESS STATEMENT FROM GMA NEWS TV:
"GMA News TV presents an intriguing documentary on the growing number of bachelorettes in this country in the special Relationship Status: SINGLE.
"Data from the National Statistical Coordination Board (NSCB) reveal that 6 out of 100 Filipinas from 35-49 years old have never been married, a number up from ten years ago. Many of them remain single by choice.
"The question is: why are more Pinays opting to delay marriage?
"Miss Tapia, grumpy, conservative, old maid—these disparaging terms used to describe unmarried women. But in Relationship Status: SINGLE, GMA News TV shows that there are women who accept this not as a curse but as an opportunity for a freer, happier life.
"Hosted by Rufa Mae Quinto and Miriam Quiambao, two women who epitomize being single and proud, the documentary presents the joys and pains of 'modern bachelorettes.'
"Rufa Mae and Miriam meet Chette, a 50-year old NBSB, or No Boyfriend Since Birth, who answers a curious question: Is she a 50-year old virgin? She also tries speed dating in the hopes of meeting the elusive Mr. Right.
"And there is the beautiful Pinky Amador, who remains as single as the number 1 can be. She confesses that she has not found Mr. Right yet but reveals many other facets about the "cougar" label.
"All men beware! Relationship Status: SINGLE bares the truth that more and more single women are now realizing: happiness can be found even without men.
"Relationship Status: SINGLE airs on Sunday, August 28, at 8:45 p.m., only on GMA News TV Channel 11."
ADVERTISEMENT - CONTINUE READING BELOW
Ed's Note: When content falls under "Press Statement," this means that the material is fully and directly from the company itself. The use of open-and-close quotation marks to envelope the entire text shows as much. This also means that PEP is not the author of the statement being read. PEP is simply providing the information for readers who may be interested.