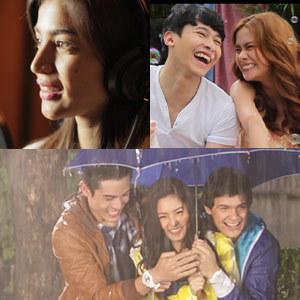 ---
"Ulan," ABS-CBN's 2011 rainy season Station ID (SID) marks the third time that the Kapamilya Network is using its now iconic "Sukob Na" anthem.

First seen in 2002, it was a breakthrough how ABS-CBN thought of making a star-studded station ID for an "occasion" that wasn't even something we celebrate, but is indeed a big part of our lives every year.

After being engraved in the minds of TV fans, with the song being a favorite of many who enjoy the melancholy and romanticism of the rainy days, Sukob Na made a comeback last year when ABS-CBN used it again for its 2010 rainy season SID.

It was visually stunning and Aiza Seguerra's take on the song is heartwarming, and the whole SID looked like an homage to the original. It brought memories to the fans of the 2002 version and it was re-introduced to a whole new generation.

But then immediately after a year, it was again brought back to life. Ulan 2011 is once more ABS-CBN's rainy day anthem with Anne Curtis taking vocal duties.

Ulan 2011 is playful, upbeat and fun, but sadly, it fails to offer anything new or breathtaking like its two predecessors did. It pales in comparison to last year's version, which did a great job presenting real life situations and locations that will make you want to love the rainy season.


The new rainy season station ID features the anchors of Umagang Kay Ganda, the hosts of Happy Yipee Yehey, and cast members of Maria La Del Barrio, My Binondo Girl, Growing Up and Banana Split. Also featured are 100 Days to Heaven's Xyriel Manabat, Guns and Roses' Bea Alonzo, TV host-actress Kris Aquino and Megastar Sharon Cuneta.


The Kapamilya Network's talents were shown frolicking in the rain while wearing colorful outfits. In one scene, Erich Gonzales and Enchong Dee share a (literally) bubbly moment doing laundry as their characters in Maria la del Barrio.
ADVERTISEMENT - CONTINUE READING BELOW

This year's Ulan SID simply presented groups of ABS-CBN celebrities obviously hamming it up for the camera, lacking last year's natural chemistry between the stars.

The locations aren't as exciting to the senses as last year's either. Most of the scenes looked like they were taken just a block or two away from their home studio (or even within the vicinity). While we get the metaphor of the different kinds of rain that each show brings, there is a great chance that TV fans may not get the message at first viewing.

Ulan 2011 is repetitive (jumping, playing and running around--that is so Sukob Na 2002) it fails to give the song and the season a new twist, but nevertheless it does its job. (Trivia: Sharon Cuneta did the very same scenes for 2002 and 2011: sipping coffee by the window, looking on and smiling at the rain).


The rainy season SID is not one of the most talked about, but when people do talk about it, it is mostly because of Anne's singing.


Anne performs the song arranged by Jimmy Antiporda. Her version of the song has a lighter, bubblier feel than the other two versions. In it, she almost sounded like Yeng Consantino, a firecracker but kittenish.


Tapping Anne to sing the song can be considered one of the factors that made ABS-CBN's rainy season station ID interesting and fresh.