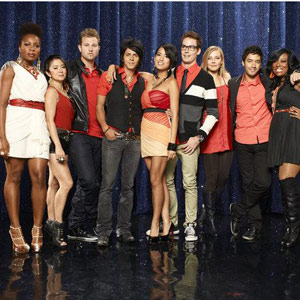 ---
Former actress Antoinette Taus appears on the NBC show The Sing-Off, which is now on its third season in the United States.


Wearing black leather shorts and a red embellished sleeveless tanktop, Antoinette was seen on the September 19 episode of the American talent show series. The former teen star has grown up to be a stunning young woman who remains passionate about performing.


The Filipina singer is part of the nine-member vocal group Kinfolk 9, which performed "Secrets" for the show's season premiere.


Kinfolk 9 has been described as "a professional group out of L.A. with members who all have the ability to share lead vocals."


They are competing against other groups called Afro-Blue, The Cat's Pajamas, The Collective, Dartmouth Aires, Delilah, The Deltones, Fannin Family, Messiah's Men, North Shore, Pentatonix, Sonos, Soul'd Out, Urban Method, Vocal Point and The YellowJackets.


The Sing-Off is hosted by Nick Lachey (who used to be part of the boy band 98 Degrees). The judges for the third season include Ben Folds, Shawn Stockman (of the R&B vocal group Boyz II Men), and Sara Bareilles (who replaced Nicole Scherzinger who's now a judge on The X Factor).


The 16 competing groups will perform chart-topping songs in the weekly competition that will culminate with a live finale revealing the grand prize winner.


The a cappella champion will receive a cash prize of $100,000 and a recording contract with Sony Music.


Four hours ago, Antoinette posted in her Twitter account: "At the @kinfolk9 premiere party for The Sing Off at Level 3 at Hollywood and Highland! :)"


She also mentioned that their viewing party at Hollywood & Highland (6801 Hollywood Boulevard) will feature her younger brother Tom Taus as the DJ.


Tom is also a former child actor who is now known as DJ Tommy T in Los Angeles. He started out in showbiz through the kiddie comedy show Ang TV (1992) and appeared in several movies such as Cedie (1996) and Batang Z (1996).


His sister, Antoinette, was also part of Ang TV before becoming known for the youth-oriented series T.G.I.S. (1995) and Anna Karenina (1996).
ADVERTISEMENT - CONTINUE READING BELOW