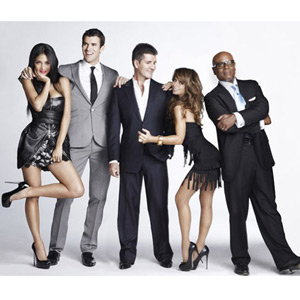 ---
X Factor USA, the latest reality singing show to hit US TV screens, is being regarded as a copy and competitor of the popular American Idol franchise. These accusations are not unfounded.
In fact, the creators of both shows seem destined to lock horns in a tight rivalry.
American Idol was created by Simon Fuller, as a spin-off from his popular series Pop Star in the UK.
Simon Cowell, the creator of X Factor USA, was a judge in Pop Star. In 2004, after two seasons, Cowell decided to launch his own show in the UK, one where he is executive producer and not just a judge. The show was the original X Factor in the UK, which promptly replaced Pop Stars as the viewers' reality singing show of choice.
Fuller did not take Cowell's action kindly, and he filed a copyright case against Cowell. The case reached a settlement out of court.
This is why it was inevitable for Cowell to leave American Idol, the show that established his career in the U.S., to create his own show.
This is also why Cowell almost always disses American Idol in his interviews about X Factor USA. He wants the new show to beat American Idol, the show that produced Kelly Clarkson, Carrie Underwood, and David Cook, and the show that continues to be a ratings juggernaut despite the less-than-stellar crop of talents the recent seasons have offered.
But does Cowell have a chance?
Perhaps not. U.S. viewers are not that excited for X Factor USA, as TV ratings data from Nielsen media research have shown.
Only 12 million viewers in the United States tuned in to the two-hour premiere of X Factor USA on September 21. In comparison, American Idol Season 10's premiere episode garnered 26 million viewers.
Still, 12 million viewers is a solid number, and there's a big chance that the number of viewers will increase as the show continues.
ADVERTISEMENT - CONTINUE READING BELOW
According to critics in the U.S., the primary reason for the low viewer count is that there are already too many singing contests on TV.
There's American Idol, the show that has become part of the current U.S. zeitgeist.
There's also The Voice, the recently-concluded singing show with a twist. Its fresh innovations to the genre (spinning chairs during the auditions, boxing arena semi-finals) and celebrity judges and mentors (Adam Levine, Cee Lo Green, Christina Aguilera, Blake Shelton) were enough to get it viewers, and a second season.
Aside from these two, there are other singing shows vying for viewer attention: Karaoke Battle USA, The Sing Off, Majors and Minors, The Glee Project, and to a certain degree, America's Got Talent.
X Factor USA, therefore, was released into a TV market too saturated with singing shows, where it may not fare well.
How can it succeed? Critics say it should play up its differences, so it can create its own identity.
TheWeek.com lists X Factor USA's key differences to its competitors, as opined by TV critics.
One, the rules are different. X Factor USA allows contestants as young as 12 years, with no visible age limit. For season 10, American Idol's age bracket is 15 to 28.
Two, the prizes are astronomical: a $5 million recording contract, and a commercial with a softdrink brand. On American Idol, the prize is just a recording contract, with no specified amount.
Three, the judges in X Factor USA—Simon Cowell, Paula Abdul, Nicole Scherzinger, and LA Reid—will also become mentors after the audition round. The Voice copied this format, so U.S. viewers are not new to the concept anymore.
Lastly, X Factor USA auditions are held in public arenas, so the contestants have to face not just the judges but also thousands of audiences. In American Idol, the contestants only have to please three to five judges.
ADVERTISEMENT - CONTINUE READING BELOW
If the differences are played right, X Factor USA may gain enough following to gain commercial success. But with its current ratings, the idea that it will replace American Idol soon is still too ambitious.


Filipinos have a good reason to follow the program since a Fil-Am student named Ellona Santiago was able to impress not only the judges but critics abroad.


She was featured in the blog of The Wall Street Journal, Billboard.com and examiner.com, among others. Ellona is a Philippine-born singer who migrated with her family to the United States when she was 11 months old.


(CLICK HERE to read related article)